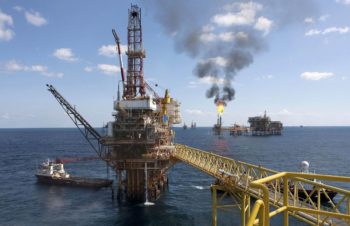 Russian Energy Minister, Alexander Novak, said on Tuesday that Russia is planning to fully comply with its commitment to cut oil output under the OPEC/non-OPEC deal this month.
Novak's comments come after March production data released Monday, showed that Russia did not meet its target of cutting 300,000 b/d against October 2016 volumes last month.
"In general, we are already seeing in the first days of April that we are meeting the agreement in full. That is, we are aiming to continue implementing the agreements. I think that we will implement our agreements until our goals are reached.
"When I say that we will meet our obligations in full, that means (the full cut of) 300,000 b/d," Novak told reporters in Ankara, according to the Prime news agency.
Novak's comments come after data released by the energy ministry Monday indicated that Russia's compliance fell short of its commitments in March.
Russia produced 46.389 million mt, or around 10.969 million b/d, of crude oil and condensate in March, according to preliminary data released by the Central Dispatching Unit, the statistical arm of the Russian energy ministry.
According to S&P Global Platts calculations, Russian output in March was 278,000 b/d below October 2016's 11.247 million b/d, which is used as a baseline for the OPEC /non-OPEC production cut agreement.
Since the deal came into force, there has sometimes been a discrepancy between energy ministry estimates given in barrels and the S&P Global Platts estimate, which is based on the CDU metric ton figure converted using a rate of 7.33 barrels a metric ton.
Figures released by the Russian energy ministry in barrels traditionally show higher compliance, as they are based on individual metric ton to barrel conversion rates for each field.
In March however, the energy ministry said that compliance was at 93.4%, with the cut in barrel terms around 280,220 b/d. Novak said Monday this was "due to the high demand for gas, as well as seasonal factors on the domestic market."
This was the first time since Russia reached its 300,000 b/d target at the end of April 2017 that the energy ministry has reported less than 100% compliance with the agreement. The deal came into force at the beginning of 2017, but Russia agreed to implement its cut gradually.
Novak is part of a government delegation led by Russian President, Vladimir Putin, visiting Turkey. In addition to bilateral talks between Russia and Turkey, Putin is set to meet with Turkish President, Recep Tayyip Erdogan, and Iranian President, Hassan Rouhani, during the visit.
Agency Report