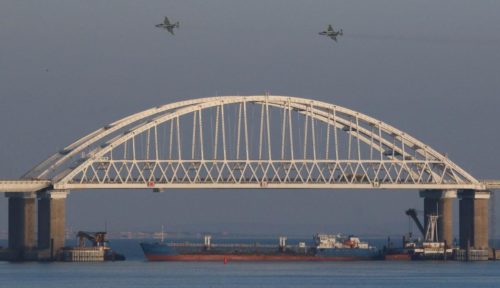 Russia used a huge cargo ship to block Ukrainian navy vessels from entering the Sea of Azov via the Kerch Strait on Sunday, November 25.
The tanker was placed under a Russian-controlled bridge linking Crimea and Southern Russia.
According to the Ukrainian Ministry of Defense, ships of the Ukrainian Naval Forces consisting of two small armored artillery boats Berdyansk and Nikopol and a harbour tug Yana Kapu carried out a planned transition from the port of Odessa to the port of Mariupol in the Azov Sea.
The ministry said that the intention to make the transition was announced in advance, in accordance with international norms.
"At 13.42, according to Kerchtrafficcontrol information, the traffic on both sides of the bridge was blocked due to the tanker's landing on the shore in front of the bridge from the Azov Sea side, the movement of the channel is closed on both sides," the ministry said on Sunday.
As informed, after the Ukrainian ships started moving to exit from the Kerch Strait, Russian naval forces began following them and opened fire.
Subsequently, all three Ukrainian ships were seized and escorted by Russian forces and six Ukrainian servicemen were reported injured.
The seizure prompted Kiev to put its armed forces on combat alert and impose martial law.
Russian President Vladimir Putin described the attempted transition of Ukrainian warships of Russian territorial waters as a provocation and gross violation of international law.
"The Ukrainian authorities bear full responsibility for creating yet another conflict situation and for the attendant risks. All this has been clearly done in the context of the election campaign in Ukraine,"the press office of the Russian President said in a release.