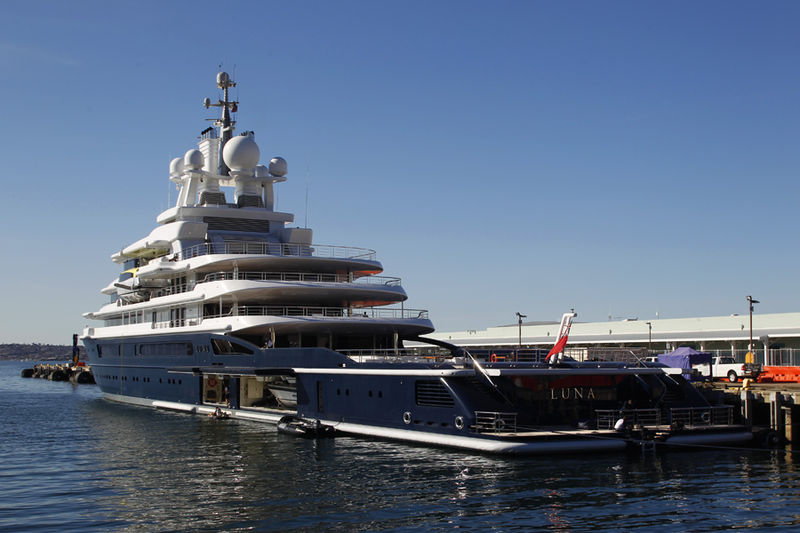 A London court ordered the seizure of a luxury $492 million yacht owned by a Russian billionaire as judges sought to enforce one of the largest divorce payouts in U.K. history.
The court ruled that Farkhad Akhmedov should transfer ownership of the 115-meter (380-foot) MV Luna, currently impounded in a dry dock in Dubai, to his wife, Tatiana Akhmedova. The judge granted the order to uphold his earlier 453.5 million-pound ($646 million) judgment.
Judge Charles Haddon-Cave said that Akhmedov tried to hide his ownership of the Luna behind a group of companies and moved the ship to Dubai on the belief that it was "well beyond the reach of an English court judgment." 
The nine deck-yacht, which has 50 crew and two helipads, was originally built for Roman Abramovich before Akhmedov purchased it in 2014.
Bankers and other financial professionals are often at the center at some of the biggest U.K. divorces. London courts have gained a reputation as being a more sympathetic place to play out high-stakes cases, as judges generally order a 50-50 split of assets, giving equal weight to the work of a wealth creator and a homemaker. 
In the final days of the court proceedings, the billionaire changed his ownership of the Luna to another of his companies. The transactions form part of the billionaire's "continuing campaign to defeat Akhmedova by concealing his assets in a web of offshore companies," Haddon-Cave wrote, declaring that the prior deals be set aside. The Luna, which also boasts a 20-meter outdoor swimming pool, eight smaller boats and a mini-submarine, has a value of 346 million pounds, according to the judgment.
Akhmedov said he had supported his wife after their marriage was dissolved in Russia. He blamed cynical lawyers for later filing for divorce in London, and U.K. politics for the court's decision. He said British judges were abusing the courts in Dubai, and linked the situation to bad relations between U.K. ministers and Russian President Vladimir Putin.
"Can it really be a coincidence that this is all happening while the British Foreign Secretary Boris Johnson's comments" make it plain that "the U.K. seeks to seize assets belonging to wealthy Russians," Akhmedov said in an emailed statement. 
The British order was made after the judge said the billionaire must pay 41 percent of his assets to his wife in December 2016. The couple met in 1989, marrying four years later and moved to London where the wife has lived with the children ever since, according to the legal arguments and the 2016 ruling. The marriage ended in late 2014.
"Any idea that the yacht can be sold or handed over to Mrs. Akhmedova is fanciful," Akhmedov said in a separate statement. "For that to happen — by the time all legal procedures were exhausted — would take years. By then the yacht could have depreciated."
Akhmedov, who refused to take part in the U.K. trial and moved back to Russia, has allegedly moved his substantial modern art collection, valued at 90.5 million pounds, to Lichtenstein, his wife said in the court documents in January.
The judge said that they needed to move quickly to enforce the order over the boat. Akhmedov "has over the past 18 months repeatedly demonstrated a willingness to take rapid and multifarious steps to evade enforcement at every turn." 
We pay for your stories! Do you have a story for Ships & Ports? Email us at [email protected] or call 0810 359 4873. You can also WhatsApp us here. We pay for videos too.

 

Copyright Ships & Ports Ltd. Permission to use quotations from this article is granted subject to appropriate credit given to www.shipsandports.com.ng as the source.