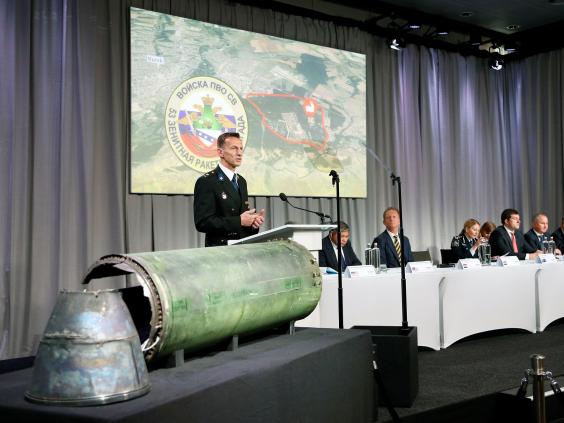 Dutch prosecutors on Thursday identified a Russian military unit on Thursday as the source of the missile that shot down Malaysia Airlines Flight 17 over eastern Ukraine in 2014, killing all 296 people on board.
The airliner flying from Amsterdam to Kuala Lumpur was hit by a Russian-made "Buk" anti-aircraft missile on July 17, 2014 over territory held by pro-Russian separatists. There were no survivors. Two-thirds of those killed were Dutch.
"The Buk that was used came from the Russian army, the 53rd brigade," Chief Dutch Prosecutor Fred Westerbeke told Reuters. "We know that was used, but the people in charge of this Buk, we don't know."
Investigators appealed to the public to come forward and help identify members of the crew who operated the missile and determine how high up the chain of command the order originated.
"The Russian Federation didn't help us in providing us the information we brought out into the open today," Westerbeke said. "They didn't give us this information, although a Buk from their military forces was used."
Russia repeated on Thursday that it had nothing to do with the incident.
"Not a single air defense missile launcher of the Russian Armed Forces has ever crossed the Russian-Ukrainian border," Russia's TASS News Agency quoted the Defense Ministry as saying in a statement.
Prosecutors showed photos and videos of a truck convoy carrying the system as it crossed the border from Russia to Ukraine. It crossed back several days later with one missile missing. The vehicles had serial numbers and other markings that were unique to the 53rd brigade, an anti-aircraft unit based in the western Russian city of Kursk, they said.
In the interim update on their investigation, prosecutors said they had trimmed their list of possible suspects from more than a hundred to several dozen.
Westerbeke said investigators were not yet ready to identify individual suspects publicly or to issue indictments, but that when they do he expects cooperation, or a firm international political response.
Copyright Ships & Ports Ltd. Permission to use quotations from this article is granted subject to appropriate credit given to www.shipsandports.com.ng as the source.