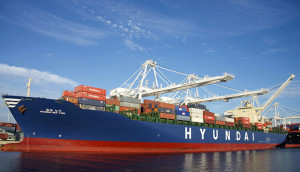 The South Korean government will increase support for home-grown shipping companies by easing the eligibility rules for the use of a shipbuilding fund.
According to shipping industry sources, state-run Korea Development Bank recently relaxed requirements on applicants for the shipbuilding fund designed to support shippers when they order new ships. Commercial and state-run banks feed 90 percent of the fund, and shipping companies the remaining. The fund works as a special purpose company to place an order for new ships.
KDB will soon announce the new eligibility rules, under which applicants only need to submit a document to show they have a long-term shipping contract of five years or longer regardless of their debt ratio.
Previously, the eligibility was limited to shipping companies whose debt ratio was less than 400 percent.
Market experts say the changes in the shipbuilding support program would benefit bulk and natural gas carriers such as Pan Ocean Co., Polaris Shipping Co., and Korea Line Corp. as they usually provide shipping services under a long-term contract lasting around five years.
In contrast, container carriers would not gain much help from the new rules as they usually operate under a short-term shipping service contract.
However, Hyundai Merchant Marine Co. (HMM) is expected to continue receiving help from the support fund regardless of the rule changes as its debt ratio was lowered to 186 percent from 5,309 percent after a debt-to-equity swap deal with its creditors.
HMM plans to add five small-sized carriers, two medium-sized carriers, and three to five very large crude oil carriers through the new shipbuilding fund, said Yoo Chang-keun, HMM's chief executive.
Copyright Ships & Ports Ltd. Permission to use quotations from this article is granted subject to appropriate credit given to www.shipsandports.com.ng as the source.