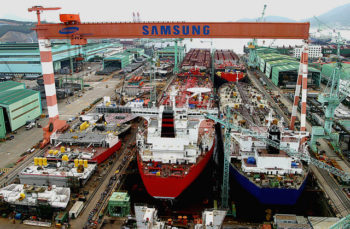 Samsung Heavy Industries has been grappling with a series of safety lapses in recent weeks, dealing a blow to its desperate campaign to win new orders to prop up its faltering bottom line.
The incidents are feared to have tarnished the image of Korea's third-largest shipbuilder and made it more difficult for the firm to secure new contracts abroad, according to industry analysts.
They have also forced company CEO Park Dae-young to cancel his trip to the world's largest shipping exhibition in Norway later this month, which may adversely affect the shipbuilder's sales pitch.
On Wednesday, a fire broke out at Samsung Heavy's main shipyard in Geoje, South Gyeongsang Province. The blaze claimed no lives but damaged the plant's cooling system, according to firefighters dispatched to the scene.
The incident occurred two days after the shipyard was cleared to resume operations, following a 15-day suspension.
On May 1, five people were killed and 20 others injured after part of a crane fell on employees working on a ship. Two cranes, 60 meters long and weighing 32 tons, collided causing a structure to fall from one of them.
"The accidents have certainly tarnished Samsung Heavy's image and could have adverse effects on its efforts to secure new contracts," said an analyst who declined to be named. "The company has begun picking up over the past year but still has a long way to go before normalizing operations. Safety-related incidents are as bad as being unable to deliver ships on time. I think CEO Park is in a pretty tight spot."
Busy dealing with troubles at home, Park will likely cancel his planned trip to Oslo to attend Nor-Shipping 2017, the world's largest global maritime fair, from May 30 to June 2.
This year, about 1,100 shippers, shipyards and maritime organizations are expected to gather, a good marketing opportunity for Samsung and other local shipbuilders to make sales pitches. Park has been taking part in the event since 2013 as CEO.
A Samsung Heavy official said the shipbuilder will do everything it can to prevent any safety incidents at its shipyards.
"The recent incidents are very unfortunate and shouldn't have happened," the official said. "We will take all possible measures to create an accident-free workplace. It is not certain whether or not CEO Park will fly to Norway this month."
In the first three months of this year, Samsung Heavy earned 2.44 trillion won ($2.18 billion) in sales, down 3.7 percent from a year earlier. But its operating profit soared 351 percent to 27.5 billion won, posting the third consecutive quarterly profit.
From 2014 to 2015, the company posted staggering losses after losing billions of dollars from delayed offshore plant projects and canceled ship orders, amid the global industry slump.
Copyright Ships & Ports Ltd. Permission to use quotations from this article is granted subject to appropriate credit given to www.shipsandports.com.ng as the source.