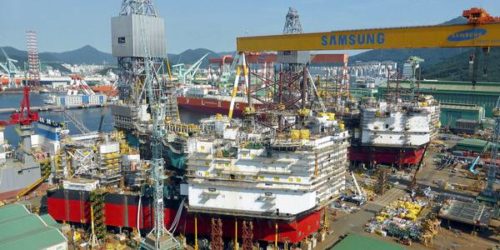 Following a series of incidents caused by safety issues, South Korean shipbuilder Samsung Heavy Industries has been ordered to cease operations at its Geoje shipyard.
A 58-year-old worker lost his life when construction materials fell from a crane at the South Gyeongsang Province shipyard on May 4, The Korea Times said citing the country's Ministry of Employment and Labor.
Only a day earlier, another worker hit by a wire rope at the shipyard. The 43-year-old laborer was rushed to a nearby hospital, but is in a critical condition, local media reported.
Samsung Heavy's spokesperson was cited as saying that the shipbuilder would abide with the labor ministry's suspension order and would undertake all needed measures to prevent safety incidents at its shipyards.
In May 2017, the shipbuilder witnessed a similar incident at the yard when a crane collision took the lives of six and injured another 25 workers.
At the time of the incident, the shipyard was finishing the construction of an oil platform for a French energy company.