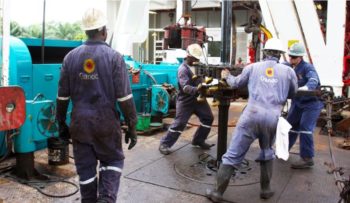 The Oando Shareholders Solidarity Group (OSSG) has said that the intervention of the Emir of Kano, Muhammadu Sanusi in the face-off between the company and one of its aggrieved shareholders cannot stop a forensic audit planned by the Securities and Exchange Commission (SEC). 
The Coordinator of OSSG, Clement Ebitimi, said that while his group is not against the "peace accord" with Alhaji Mangal brokered by Sanusi, the issue of the forensic audit borders on financial mismanagement, insider dealings, abuse of corporate governance and infractions with regards to the Investment and Securities Act (ISA) 2007. 
"For the avoidance of doubt, the Forensic Audit of Oando ordered by SEC is not about Alhaji Dahiru Mangal. The Audit is about series of infractions of the Investment and Securities Act (ISA) 2007 uncovered in the company by a preliminary investigation ordered by SEC. 
"SEC's preliminary findings established serious concern to the existence of corporate governance, gross abuse of corporate governance and series of manipulations and financial management in Oando Plc. 
"The alleged infractions include breach of the SEC Code of Corporate Governance; Breach of ISA 2007 on Disposal of Oando Exploration & Production Limited (OEPL) by Oando Plc 2013; Breach of ISA 2007: Misstatements in the 2013 and 2014 Audited financial statement of Oando Plc arising from the OEPL transaction; Breach of ISA on Misleading Information contained in Oando Plc's 2014 Rights Issue Circular; Breach of SEC Rules and Regulations on Payment of Dividends; and the Auditor's doubt over the ability of Oando to continue as a Going Concern.
"SEC's preliminary investigation also unearthed suspected insider dealing, in which the Commission observed that certain persons classified as insiders within the provisions of Section 315 of the Investment and Securities Act (ISA) 2007 and who were in possession of confidential price sensitive information not generally available to the public, had between January and October 2015, traded on Oando Plc shares prior to the release of the company's 2014 Financial Statement, where the company reported a loss of N183 billion," Ebitimi said in a press release issued on Tuesday. 
He said a letter written by SEC to Oando on October 17, 2017 also established instances of related party transactions where the Commission identified certain related party transactions and observed that they were not conducted on arm's length basis as required by law. 
"According to SEC's findings, Oando also declared dividend in 2013 and 2014 from unrealised profits," the OSSG Coordinator said. 
He said the allegations against the company are weighty and are not about a shareholder. 
"The House of Representatives has issued a clear directive to SEC to investigate these infractions. 
"The Honourable Minister of Finance, Mrs. Kemi Adeosun, in exonerating herself from attempts to stall the forensic audit, has also stated that the Oando management has a case to answer with regards to infractions of the ISA 2007. 
"We hereby call on Emir Muhammadu Sanusi not to interfere in the legitimate process of instilling sanity in Oando and in the capital market. 
"When he meted out severe disciplinary measures against some bank CEOs in the banking industry during his tenure as Central Bank of Nigeria Governor in 2009, no one interfered with his job. 
"SEC's primary role as the apex regulator of the Nigerian capital market is to regulate market participants and protect the investing public. This must not be compromised by any means. 
"The Commission rightly noted that its earlier findings are weighty and therefore needs to be further investigated to ascertain their veracity or otherwise; hence the forensic audit. 
"Shareholders deserve to know the true state of affairs of their company. Investors are watching; the world is watching and we will not allow this matter to rest until the right thing is done," Ebitimi added.
We pay for your stories! Do you have a story for Ships & Ports? Email us at [email protected] or call 0810 359 4873. You can also WhatsApp us here. We pay for videos too.

 

Copyright Ships & Ports Ltd. Permission to use quotations from this article is granted subject to appropriate credit given to www.shipsandports.com.ng as the source.