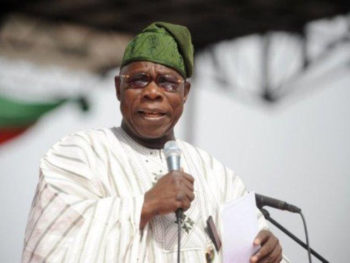 By Omotilewa Quadri 
Former President Olusegun Mathew Obasanjo, is not new to controversies. In 2014, he sent a missive to then President Goodluck Jonathan detailing his alleged misdeeds. The then opposition APC hailed Obasanjo as a patriot and statesman. Now the same party is at the receiving end of the former President's caustic assessment. 
On Tuesday, Obsanjo slammed the President Muhammadu Buhari-led government for performing below the expectations of Nigerians. Obasanjo, who ruled Nigeria at different times as a military Head of State and democratic president from 1999 to 2007, had in a strongly worded letter titled "The Way Out: A Clarion Call For Coalition For Nigeria Movement", highlighted five major failings of Buhari's government. Below are Obasanjo's comments on the five key areas: 
Poverty
"Already, Nigerians are committing suicide for the unbearable socio-economic situation they find themselves in. And yet Nigerians love life. We must not continue to reinforce failure and hope that all will be well. It is self-deceit and self-defeat and another aspect of folly."
Insecurity/Herdsmen menace
"The herdsmen/crop farmers issue is being wittingly or unwittingly allowed to turn sour and messy. It is no credit to the Federal Government that the herdsmen rampage continues with careless abandon and without finding an effective solution to it. And it is a sad symptom of insensitivity and callousness that some Governors, a day after 73 victims were being buried in a mass grave in Benue State without condolence, were jubilantly endorsing President Buhari for a second term!
"The second is his poor understanding of the dynamics of internal politics. This has led to wittingly or unwittingly making the nation more divided and inequality has widened and become more pronounced. It also has effect on general national security." 
Poor economic management
"The third is passing the buck. For instance, blaming the Governor of the Central Bank for devaluation of the naira by 70% or so and blaming past governments for it, is to say the least, not accepting one's own responsibility. Let nobody deceive us, economy feeds on politics and because our politics is depressing, our economy is even more depressing today. If things were good, President Buhari would not need to come in. He was voted to fix things that were bad and not engage in the blame game. Our Constitution is very clear, one of the cardinal responsibilities of the President is the management of the economy of which the value of the naira forms an integral part. Kinship and friendship that place responsibility for governance in the hands of the unelected can only be deleterious to good government and to the nation."
Nepotism
"One is nepotic deployment bordering on clannishness and inability to bring discipline to bear on errant members of his nepotic court. This has grave consequences on performance of his government to the detriment of the nation. It would appear that national interest was being sacrificed on the altar of nepotic interest. What does one make of a case like that of Maina: collusion, condonation, ineptitude, incompetence, dereliction of responsibility or kinship and friendship on the part of those who should have taken visible and deterrent disciplinary action? "
Condoning misdeeds
"There were serious allegations of round-tripping against some inner caucus of the Presidency which would seem to have been condoned. I wonder if such actions do not amount to corruption and financial crime, then what is it? Culture of condonation and turning blind eye will cover up rather than clean up. And going to justice must be with clean hands." 
CLICK HERE TO READ OBASANJO'S FULL STATEMENT 
Copyright Ships & Ports Ltd. Permission to use quotations from this article is granted subject to appropriate credit given to www.shipsandports.com.ng as the source.