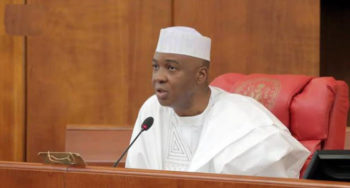 By Omotilewa Quadri 
The Senate President, Bukola Saraki, has said the ongoing fuel scarcity in the country is man-made and that those responsible must pay the price for visiting hardship on Nigerians.
Saraki said this on Tuesday while welcoming his colleagues back to the plenary from their three weeks break.
"I am not unmindful of the sobering fact that the new year has met many citizens in a reflective mood. Many were on the queue for petrol; many households are grief-stricken.
"This mood of reflection is also one from which no lawmaker is immune; what affects one, affects all. When one part of the body is hurting, the whole body hurts, and this holds true for the entire nation.
"We have all been witnesses to the hardships with which many Nigerians saw in the new year, stuck on fuel queues tailing from petrol stations in many of our cities.
"My own estimation of the fuel scarcity phenomenon is that it is man-made. We thought we had left the problem of fuel queues firmly in the past in this country, but sadly, that appears not to be the case," he said.
The Senate President disclosed that members of the Senate Investigative Panel on Fuel Scarcity had to cut short their recess and had commenced hearing on the crisis.
He commended the members for their prompt response and the work carried out.
"We seek the cooperation and understanding of Nigerians as we try to get to the bottom of this issue. In any event, there is a problem, and it must be solved. We await the findings of the Investigative Panel on Fuel Scarcity, firm in our resolve that whoever is responsible must pay the price for visiting this needless hardship upon our people", he added.
Copyright Ships & Ports Ltd. Permission to use quotations from this article is granted subject to appropriate credit given to www.shipsandports.com.ng as the source.