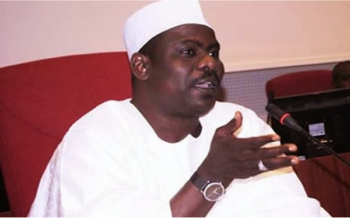 Senator Muhammed Ali Ndume was on Wednesday suspended for six months by the Senate over his allegations against Senate President Dr Bukola Saraki and Senator Dino Melaye. This is even as the upper legislative chamber cleared Saraki and Melaye of the allegations made against them.
Saraki was accused of complicity in the importation of an bulletproof Range Rover without payment of appropriate Customs duty while Melaye was accused of certificate forgery.
Ndume was found guilty of not "making due diligence" before filing a petition against both Saraki and Melaye over the allegations. His suspension was based on the recommendation of the Senate Committee on Ethics, Privileges and Public Petitions considered by the lawmakers at the Wednesday plenary session.
Chairman of the Committee, Sen. Sam Anyanwu, presented the committee's report at plenary session which exonerated Saraki of any wrong doing.
Anyanwu said "the name of the Senate President was not mentioned anywhere in the bill of lading or any document whatsoever connected with the importation or purchase of the SUV Range Rover.
"We observed that he did not import any SUV Range Rover as corroborated by all respondents.
"This story was cooked up with intent to embarrass the Senate President, the Senate and by extension, the National Assembly.
"That the complainant did not conduct due diligence before bringing the matter to the floor of the Senate."
The report similarly confirmed that Sen. Dino Melaye obtained a first degree in Geography from Ahmadu Bello University, Zaria.
Anyanwu said since Ndume failed to crosscheck facts before presentation at plenary session, he had brought the integrity of both Melaye and the Senate into disrepute.
He said the committee consequently recommended sanction against Ndume for not being a patriotic representative of the Senate, and should serve as deterrent to others.
The Deputy President of Senate, Ike Ekweremadu, who presided over plenary, said a great lesson had been learnt.
"We should investigate matter before we allege them", he said.
Ekweremadu commended the committee for a thorough investigation within the given time frame.
"We look forward to a more united Senate. We should work for the betterment of the Senate", he said.
Copyright Ships & Ports Ltd. Permission to use quotations from this article is granted subject to appropriate credit given to www.shipsandports.com.ng as the source.