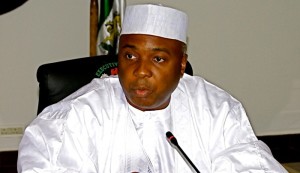 Senate President, Bukola Saraki Wednesday asked for a concerted international effort to tackle terrorism, poverty and illegal migration.
He described the menace of terrorism, poverty and illegal migration as a global challenge.
Saraki spoke when a delegation of students of the Royal College of Defence Studies, United Kingdom, led by Major General Lawrence Craig visited him at the National Assembly in Abuja.
A statement by the Special Assistant to the Senate President on Print Media, Chuks Okocha, quoted Saraki as saying that the rising incidence of terrorism, poverty and illegal migration across the world, constitute a threat to the peace, stability and wellbeing of humanity irrespective of their countries of residence.
It said that Saraki spoke in response to the address of the leader of the delegation.
The Senate President also called for international support to enable Nigeria overcome its present economic challenges, and noted that if Africa has to grow, then Nigeria has to grow as the most populous in the continent.
Saraki said, "When we talk about terrorism, poverty and migration, these are issues of great importance to us," he said, asking "how do we address them? How do we secure our people from the ravages of terrorism, illegal migration and biting poverty?"
He noted that the manner terrorism, poverty and migration are tackled will go a long way in deterring the fate of Africa even though it is the obvious destination where tremendous economic growth is expected to take place in the next 30 years.
"Whether you talk about economic growth, security challenges, humanitarian issues, health and education, all these are in Africa. I think for every other part of the world, we have to come together to make Africa work. And for Africa to work, Nigeria must work as well," he said.
He added: "I still believe that a lot can be done in the fight against terrorism. I think more can be done to support what we have achieved.
"Illegal migration is another challenge we have. This is closer to your doorsteps. Many are looking for greener pastures, and that is the reason why we need to work together more closely," he said.
Leader of the delegation, Major General Craig, said that they were in Nigeria as part of their study tour of West Africa, to learn at first hand the efforts being made by the various governments to ensure stability, security and prosperity in their countries.