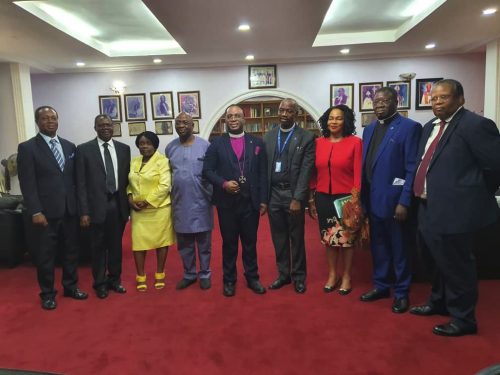 The Mission to Seafarers has inaugurated a new management committee to oversee the wellbeing of seafarers in Nigeria with former Managing Director, Nigerian Ports Authority (NPA), Chief Adebayo Sarumi appointed as its Chairman. 
The Mission to Seafarer is a mission society of the Anglican Communion, which offers help and support to merchant seafarers. The charity provides its services through the chaplains that it appoints to port centres in over 50 countries.
Inaugurating the committee in Lagos on Monday, the Bishop of Lagos Anglican Diocese, Rt. Rev. Humphrey Olumakaiye, said the committee could not have come at a better time when seafarers are faced with lots of challenges  including pirate attacks at sea.
While expressing appreciation to the former committee, Olumakaiya charged the new committee to remain focused and committed to the cause of the seafarers' mission, which he explained falls under the Diocese's pastoral ministry.
He said, "We are delighted to have us inaugurate the Mission to Seafarers today especially as shipping faces a lot of challenges. However, owing to our divine mandate, we have decided to reach out to everyone at all levels and take the gospel to all nooks and cranny of our environment.
"This is part of our mandate on pastoral ministry by taking the gospel to the door step of every believer. We believe we should make life worth living for people out there and this is an opportunity for us as a Diocese to do something about their plights on the sea. 
"Some are on the sea for months without anybody. But through our Mission to Seafarers, we believe we will be able to take the gospel of salvation to them as well as take care of their physical needs and that is our mandate as a Diocese, making the environment so comfortable for them so that they will also have sense of belonging
"We are going to take care of their spiritual and physical needs and even in terms of their medical care, without (the seafarers) paying a dime. We saddled the committee with the responsibility of going after their needs and in making sure we alleviate the problems they may be confronting on duty,"
"I am happy that we have someone that we can tap from his expertise like Chief Sarumi , now Chairman of this committee. We are sure during your tenure, you will take this mission to another level."
In his acceptance remarks, Sarumi, promised that the committee would make a difference in bringing succour to seafarers by addressing their plights and building a unique mission not just in Nigeria but in Africa. 
He said, "Our aim is to have a unique and without equal mission in Africa. Seafaring is an extremely traumatic business. It is a profession that is not very palatable given the challenges they face at sea, the fears of kidnap, traversing areas of war and the dangers that come being at sea. It is not an easy thing. 
"The nature of their job is such that they stay on board for so many months at a stretch without seeing their family and when they are able to have a land fall, the best they could ever hope to have is a temporary relieve for all their travails and this is what the mission is all about to provide that temporary relief for them."
Members of the committee include Revered Canon Bimbo Aduroja as Chaplain; Engr. Emmanuel Ilori, Assistant Chaplain; Chief Igho Dafinone, Treasurer; Ms Funmi Folorunsho, Secretary; Dotun Makinde, Ex-Officio with Engr. Philip Atitebi and Mrs Yetunde Akinluyi as members.