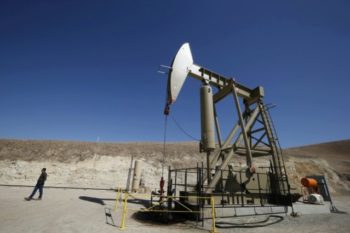 Saudi Arabia on Thursday said it was suspending oil shipments through a strategic Red Sea lane after Yemen's Iran-aligned rebels attacked two tankers in the waterway.
This attack underscores the risk of an escalation in tensions in the region.
Brent crude futures rose 59 cents to $74.52 a barrel by 1008 GMT, extending their rally into a third day but falling from a 10-day high in earlier trading.
Saudi Arabia and arch-foe Iran have been locked in a three-year proxy war in Yemen, which lies on one side of the Bab al-Mandeb strait at the southern mouth of the sea, one of the most important trade routes for oil tankers heading from the Middle East to Europe.
The Houthis, who have previously threatened to block the strait, said on Thursday that they had the naval capability to hit Saudi ports and other Red Sea targets. Iran has threatened to block another strategic shipping route, the Strait of Hormuz.
Saudi Energy Minister, Khalid al-Falih, said the Houthis attacked two Saudi oil tankers in the Red Sea on Wednesday, one of which sustained minimal damage.
"Saudi Arabia is temporarily halting all oil shipments through Bab al-Mandeb strait immediately until the situation becomes clearer and the maritime transit through Bab al-Mandeb is safe," he said.
The chairman of Kuwait Oil Tanker Company said the country was studying whether to follow suit.
The powerful commander of Iran's Revolutionary Guards Quds force, Qassem Soleimani, criticised the U.S. role in the world's top oil exporting region.
"The Red Sea, which was secure, is no longer secure with the American presence (U.S. President Donald) Trump should know that we are nation of martyrdom and that we await him," Soleimani was quoted as saying on Thursday.
Industry and shipping sources said the suspension was unlikely to impact Saudi crude supplies to Asia but could add shipping costs to Saudi vessels heading to Europe and the United States due to a longer transit.
Traders said the suspension order was only for Saudi-owned vessels, so state-owned Saudi Aramco could still charter foreign ships to move its crude.
Saudi Arabia, the world's largest oil exporter, also has a pipeline route to the city of Yanbu on the Red Sea keeping Europe and North America well supplied — the 5 million barrels per day (bpd) Petroline.
The OPEC heavyweight, an important U.S. ally, has led a pact among global oil producers to boost output to cool the market after Trump imposed sanctions on Iran and criticised OPEC for high oil prices.
Saudi state media reported shortly after Falih's announcement that the kingdom's Crown Prince, Mohammed bin Salman, chaired a meeting of the Political and Security Affairs Council but did not mention what topics were discussed.
Saudi Arabia leads a coalition of Sunni Muslim Arab states which intervened in Yemen's war in 2015 to restore the internationally recognized government in exile and thwart what Riyadh sees as Tehran's expansionist ambitions in the region.
Agency Report