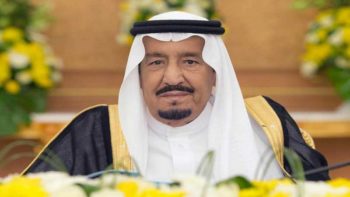 Saudi Arabia's King Salman has ordered the reopening of the border with Qatar to hajj pilgrims, state media said Thursday, despite a major diplomatic crisis roiling the region.
The Salwa border crossing has been closed since June 5 when Saudi Arabia, Egypt, Bahrain and the United Arab Emirates severed diplomatic and trade ties with Qatar over accusations the emirate fostered Islamist extremists. Qatar has denied the allegation.
The announcement to reopen the frontier for Qatari pilgrims came after powerful Saudi Crown Prince Mohammed bin Salman received an envoy from Doha, the official Saudi Press Agency said, in the first public high-level encounter between the nations since the crisis erupted.
King Salman has allowed "the entry of Qatari pilgrims to the Kingdom of Saudi Arabia through Salwa border crossing to perform hajj, and to allow all Qatari nationals who wish to enter for hajj without electronic permits", a statement on SPA said.
He also ordered that private jets belonging to Saudi airlines be sent to Doha airport "to bring all Qatari pilgrims at his expense".
The decision also came after Prince Mohammed received a phone call from US Secretary of State Rex Tillerson, who has sought repeatedly to defuse the regional crisis, SPA reported, without revealing the details of the conversation.
Saudi Arabia last month said Qatari pilgrims would be allowed to enter the kingdom for hajj this year but imposed clear restrictions, including flying via airlines approved by Riyadh.
Doha has accused Riyadh of politicising the hajj and jeopardising the pilgrimage to Mecca by refusing to guarantee the safety of Qatari citizens.
The hajj, a pillar of Islam that capable Muslims must perform at least once, is to take place at the beginning of September. The pilgrimage is expected to draw around two million people this year.
Prince Mohammed emphasised the "historical relations between Saudi and Qatari people" after his meeting with the Qatari envoy, Sheikh Abdullah bin Ali bin Abdullah bin Jassim al-Thani, SPA said.
But some observers cautioned that the diplomatic crisis was far from over, despite the apparent bonhomie.
"This is a goodwill gesture towards the Qatari people and not a breakthrough with the Qatari" government, Ali Shihabi of the Washington-based think tank Arabia Foundation said on Twitter, referring to the reopening of the border.
There was no immediate official reaction from Doha, but Qatar's National Human Rights Commission welcomed the decision, while adding that "the issue of hajj cannot be subject to any political or personal calculations".
The decision drew strong opinions on social media, with Qataris appearing to respond largely critically.
"We do not need the (Saudi) king's charity. The Qatari right to pilgrimage is not given as charity from the king," one Qatari wrote on Twitter.
"He (King Salman) didn't invite them to his own house. And every Muslim has the right to go to hajj," wrote another Twitter user.
Saudi Arabia and its Arab allies have shut down air, maritime and land links with Qatar, and imposed economic sanctions, accusing Doha of supporting "terrorists" and of being too close to their regional rival Iran.
Qatar has denied the allegations and denounced what it called a "blockade" aimed at bringing the wealthy Gulf state to its knees.
The tiny emirate with a population of 2.6 million, 80 percent of them foreigners, ranks as the world's richest country on a per capita basis, according to the International Monetary Fund.
It holds a staggering $330 billion in a sovereign wealth fund, with assets heavily invested abroad. 
We pay for your stories! Do you have a story for Ships & Ports? Email us at [email protected] or call 0810 359 4873. You can also WhatsApp us here. We pay for videos too.

 

Copyright Ships & Ports Ltd. Permission to use quotations from this article is granted subject to appropriate credit given to www.shipsandports.com.ng as the source.