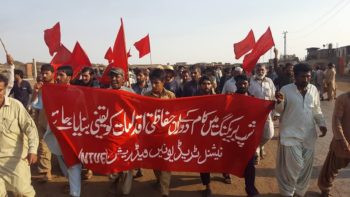 The Shipbreaking Workers Union Gadani (SBWUG) have called off their planned strike action after reaching a deal, which includes a wage increase, with the employers association.
The union earlier planned to start an indefinite strike on the back of a number of incidents at Pakistani yards, the most devastating of which was the 2016 oil tanker explosion at the Gadani shipbreaking yard when 26 workers lost their lives and an additional 19 were injured.
Additionally, six more workers have lost their lives and many have been injured in workplace accidents, while workers' wages have remained same and there has been no progress in social security registration for workers, according to IndustriALL global union.
Employers promised to make improvements in working conditions, however, none have been undertaken since the incident.
SBWUG planned to launch the strike if their demands were not met. The union asked for a 50 percent wage increase, one week's paid holiday, implementation of the shipbreaking code, health and safety measures, registration with the Employees Old Age Benefits Institution, and provision of social security cards.
On August 4, the parties reached an agreement with a ten per cent wage increase for all categories of shipbreaking workers, IndustriALL informed. Furthermore, in case of future accidents, cases would only be filed against employer or the management, not against supervisors or people in charge of workers.
"This is an important victory for shipbreaking workers. The employers did not seriously address the issues. It is only after we called for a strike that the employers came to the negotiation table and agreed on our main demands," Nasir Mansoor, president of the National Trade Union Federation, said.
"However, we have long way to go to improve the working conditions in shipbreaking yards, we need the cooperation of the government authorities and employers."  
Copyright Ships & Ports Ltd. Permission to use quotations from this article is granted subject to appropriate credit given to www.shipsandports.com.ng as the source.