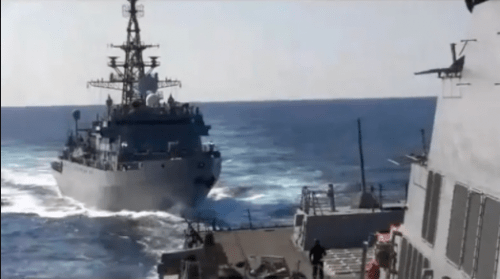 The Saudi-led coalition in Yemen fighting Iranian-aligned Houthi rebels said Wednesday it had foiled an attack on an oil tanker in the Arabian Sea by four remote-controlled boats.
Colonel Turki al-Malki, spokesman for the coalition, said that attack occurred on Tuesday around 90 nautical miles from Yemen's Nishtun port, the state-run SPA news agency reported. He did not give further details.
Last month, the coalition said it destroyed an explosive-laden boat planted by the Houthis in the Red Sea.
Saudi Arabia often intercepts and destroys Houthi missiles targeting its cities and also its oil facilities, which were attacked last year, temporarily disrupting oil supply. Gulf tankers were attacked last year in the Strait of Hormuz in the Persian Gulf, including Saudi and UAE ones.
In 2018 the Houthis attacked a Saudi oil tanker near Bab el-Mandeb, a key chokepoint at the southern end of the Red Sea, forcing Saudi Aramco to temporarily halt shipments through the waterway.
Houthis last year attacked the 1,200 km East-West pipeline linking the oil-rich east to the Red Sea port city of Yanbu, temporarily shutting down flow of oil through the facility.
Source: Platts