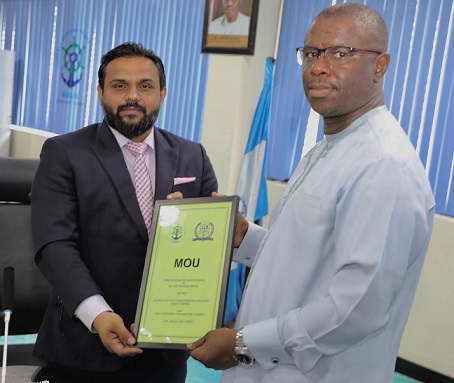 The Nigerian Maritime Administration and Safety Agency (NIMASA) has reiterated its commitment to a partnership with international institutions for sea time training of Nigerians under the Nigerian Seafarers Development Programme (NSDP).
The Director-General of NIMASA, Dakuku Peterside, said this last week in Lagos during the signing of a Memorandum of Understanding (MoU) between the agency and the Maritime Academy of India for onboard sea time training of some graduates of the programme.
Dakuku said the MoU covered the training of 60 cadets in three batches of 20 each.
"This MoU will help reduce the amount of cadets awaiting sea-time by clearing up the first 60 of the backlog in three batches of 20 each," he stated.
While congratulating the 20 trainees under the first batch of the scheme, Dakuku tasked them to be dedicated, disciplined and committed to making the best use of the opportunity to develop themselves and aid national development.
"We are proud that you will be joining the global merchant fleets. Be sure to represent Nigeria positively. We are determined to get all of your mates the much needed sea-time. Under the current leadership of NIMASA, we are working very hard to provide sea-time for all that have gone through our NSDP," he said.
He expressed NIMASA's determination to explore and use appropriate avenues to ensure that Nigerian seafarers get the right exposure and training to excel in the global maritime space, stating that in the near future, Nigeria would be a supplier of qualified seafarers to the rest of the world.
Dakuku said the agency was in negotiation with other academies with access to ocean- going training vessels in countries, like Turkey and United Kingdom, among others, to secure sea time for Nigerians. He said he wanted to replicate in Nigeria the progress recorded under similar partnerships in countries, like Philippines, in the area of providing seafarers to the international market.
The Maritime Academy of India was represented at the MoU signing ceremony by the Managing Director of TMC Shipping Pvt Limited, Neeraj Kumar.
Kumar appreciated NIMASA's effort to develop the seafarers and commended the NSDP initiative.
TMC is India's leading maritime education, training and recruitment company.