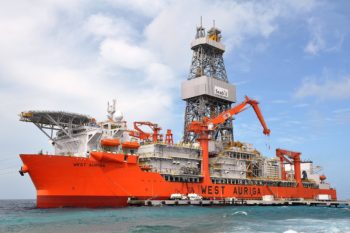 Offshore driller Seadrill plans to launch a long-awaited Chapter 11 debt restructuring by Sept. 12, aims to raise $1 billion in new capital, and said existing shareholders may not recover any of the value of their stocks, sending the firm's shares down.
Once the biggest offshore rig firm by market value and the crown jewel of Norwegian billionaire John Fredriksen's business empire, Seadrill shares have plunged 99 percent from a 2013 peak as energy firms have slashed spending to cope with lower prices.
The Chapter 11 process provides a company with protection from creditors while it seeks to renegotiate its debts and secure its future, though in Seadrill's case the aim is to present a complete proposal for what its structure should be.
"Our primary objective at the moment is concluding final negotiations on our comprehensive restructuring plan, which is at an advanced stage and likely to be implemented via Chapter 11 proceedings on or before 12th September 2017," Seadrill Chief Executive Anton Dibowitz said in a statement.
Seadrill said the restructuring plan was likely to involve raising about $1 billion of new capital, as well as a five-year extension of its bank facilities and "substantial" impairment or conversion of its bonds into equity.
Other stakeholders, including shipyards, will have to take some pain as well.
"As a result, the company currently expects that shareholders are likely to receive minimal or no recovery for their existing shares," the company said.
"The 'no recovery' part is new," said ABG Sundal Collier analyst Lukas Daul. "It looks like existing shareholders will be wiped out and that the new shareholders will be the ones bringing the $1 billion in new capital."
Shares in Seadrill were down 18 percent at 1105 GMT.
Top shareholder Fredriksen, while not mentioned in the statement on Thursday, is expected to continue playing a key role in the restructuring.
"They (Seadrill) don't give any details around the $1 billion in fresh capital, but I think it's very likely that Fredriksen will be a part of it," said Daul.
"He would probably do it to maintain his share of the company and to make sure the refinancing happens at all. Without him I have a hard time imagining that anyone would be a part of this."
Seadrill has postponed a number of deadlines for debt restructuring, but some analysts believe this time could be different.
"What makes it different this time is that they have a $1 billion bond maturing in September. That makes it (Chapter 11 restructuring) far more likely," Thomas Larsen, an analyst at Norway's largest bank DNB, said.
Larsen estimates Seadrill's total debt and liabilities, including about $2 billion to shipyards, at more than $10 billion.
Net interest bearing debt alone stood at almost $8 billion at the end of the second quarter, the company said.
Seadrill is negotiating with more than 40 banks, including Norway's DNB, Sweden's Nordea and Denmark's Danske Bank, as well as with bondholders and several rig-building yards.
The company has rigs under construction at Samsung and DSME shipyards in South Korea, Jurong in Singapore, and Dalian and COSCO in China.
Larsen said he doubted anybody would put more equity into the company, so the capital would have to be raised via debt.
"It's difficult to say how much Fredriksen would contribute, but we think that he would probably contribute through some debt instrument," he added.
Seadrill said its business operations remained unaffected by the restructuring efforts, and it was able to re-contract a number of its rigs during the second quarter, reporting higher than expected quarterly revenues. 
Copyright Ships & Ports Ltd. Permission to use quotations from this article is granted subject to appropriate credit given to www.shipsandports.com.ng as the source.