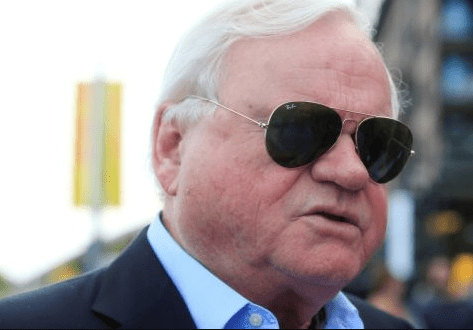 Billionaire John Fredriksen stepped down as chairman of Seadrill Ltd., raising the question of whether he could become less supportive of an offshore-rig company struggling with high debt.
Fredriksen was instrumental in pulling Seadrill through a massive restructuring by injecting fresh cash, but the company remains the most leveraged offshore driller and is getting little help from a sluggish market recovery. Seadrill fell as much as 10% even though the Norwegian-born shipping tycoon, who owns 30% of the company, said his "strong support" would continue.
The shares later pared the loss to 0.1% as of 10:52 a.m. in Oslo on Thursday, when the company also reported a third-quarter loss marked by impairments on an debt-laden subsidiary.
Read all about the restructuring: Fredriksen Is Back in Rigs After $5 Billion Vanished in Seadrill
Seadrill will probably need to restructure again, and it's not clear what role Fredriksen might play then, said Carnegie AS analyst Frederik Lunde.
"I have no illusion that he will throw a lot of good money down the drain here," Lunde said by phone. "It will depend on a total package on the debt."
Other analysts aren't so sure the resignation means anything for Fredriksen's commitment, although Pareto Securities AS's Christopher Mo Dege acknowledged that it was likely to be interpreted negatively by the market.
Most analysts recommend clients buy Seadrill stock. But a more than 90% drop since the company emerged from bankruptcy protection last year suggests investors aren't convinced that the postponement of almost $6 billion in bank debt will be enough to pull through a market slump that has been much longer than most expected.
Fredriksen's departure marks a milestone for Seadrill, where he has headed the board since founding the company in 2005. In less than a decade, he built the company into the biggest offshore driller by market value and the crown jewel of his business empire. After oil prices collapsed in 2014, Seadrill was forced to face the massive liabilities amassed in the process.
The restructuring that followed was the offshore drilling industry's largest ever and has been described by Fredriksen as the biggest challenge of his career. His leading role in assembling together with several hedge funds $1.1 billion in fresh cash and a deep relationship with banks and shipyards were decisive.
Fredriksen will be succeeded by Glen Ole Rodland, who has 25 years in the shipping and oil industries and currently heads the board at Prosafe SE. Fredriksen's top adviser Harald Thorstein also left Seadrill's board, as expected, and will be replaced by another of his collaborators, Gunnar Winther Eliassen.
"While I have now decided to spend less time on board seats, my close involvement and strong support of Seadrill will remain unchanged," Fredriksen said in a statement on Thursday. "I will continue to push for business optimization, strategic initiatives such as the recent joint ventures with Sonangol and GDI, and consolidation in the sector."
The 75-year-old Cypriot citizen has over the past years made comments about how he intends to organize his business empire as he gradually steps back from active management. That includes giving more responsibility to his two daughters but also contemplating consolidation in the shipping industry that could see the group relinquish some operational control. Fredriksen remains chairman of tanker company Frontline Ltd.
Seadrill had adjusted earnings before interest, tax, depreciation and amortization of $85 million in the third quarter, ahead of its own forecast, it said in a separate statement. Yet it also reported a net loss of $521 million after a $302 million impairment related to its subsidiary Seadrill Partners LLC.
Chief Executive Officer Anton Dibowitz said new contracts strengthened his "confidence in a recovering market across all sectors, albeit at a lower pace."