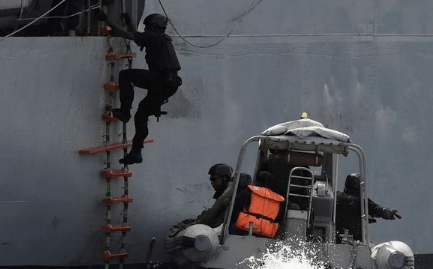 The International Maritime Bureau (IMB) has reported a surge in violent hostage taking and kidnappings of seafarers off West Africa in the first half of 2020.
According to the IMB's latest piracy report 77 seafarers were taken hostage or kidnapped by pirates in the first half of 2020, with the Gulf of Guinea accounting for over 90% of kidnappings worldwide.
In the first half the year 49 crew have been kidnapped for ransom in the Gulf of Guinea and held captive on land for up to six weeks.
The threat of violent kidnappings in the Gulf of Guinea adds to the stress already faced by seafarers working in the middle of the global Covid-19 pandemic.
"Violence against crews is a growing risk in a workforce already under immense pressure," said IMB director Michael Howlett. "In the Gulf of Guinea attackers armed with knives and guns now target crews on every type of vessel. Everyone's vulnerable."
Worryingly the rate of attacks in the Gulf of Guinea would appear to be accelerating with 32 crew kidnapped in the last three months alone.
The IMB urges vessels to report any attacks promptly so it can work with local agencies on a swift response to piracy.
"We need to change the risk-to-reward ratio for pirates operating within the Gulf of Guinea. Without an appropriate and proportionate deterrent, pirates and robbers will get more ruthless and more ambitious, increasing the risk to seafarers," warned Howlett.
Worldwide 98 incidents of piracy and armed robbery were reported to the IMB in the first half of 2020.