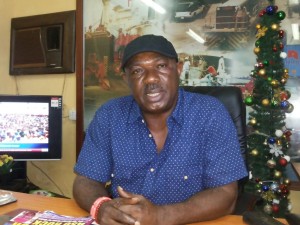 The National Association of Government Approved Freight Forwarders (NAGAFF) has blamed what it described as self- serving attitude of heads of government agencies in the maritime sector as being responsible for the inconsistent trade policies in the industry.
Founder of the association, Dr. Boniface Aniebonam said yesterday in Lagos that there are no good reasons why government will restrict importation of trade goods such as rice, pharmaceutical products and most recently vehicles from the land borders where security officials are duly positioned to carry out their statutory duties if not for the lapses in leadership quality of government officials most of whom he said "are unpatriotic".
He urged President Mohammadu Buhari to take appropriate steps to fish out and disengage those who are working at variance with the nation's goal.
He said, "The resultant effect of the self serving attitude of most government leadership in our maritime trade and transportation may have led to most of the inconsistent trade policies in our industry.
"We in NAGAFF completely agree with the decision of the federal government to restrict importation of rice, pharmaceutical products and vehicles from the border entry points in the interest of revenue and health of Nigerians.
"We however believe there is the need to grant waiver to vehicles in transit to Nigeria based on time of importation prior to the directives restricting their importation to Nigeria through the land borders in line with the relevant Sections of the Customs laws."
Aniebonam commended the Managing Director of Nigerian Ports Authority (NPA), Hadiza Bala Usman for her visit to NAGAFF office as part of effort to engage stakeholders with a view to making the port more efficient.
According to him, it is unpatriotic for any head of government agency to sit down in the comfort of public offices and churn out policies and directives without going meeting with stakeholders.
"It is on record that the Director General of Standards Organisation of Nigeria, National Agency for Food and Drug Administration and Control, Nigerian Maritime Administration and Safety Agency, Nigerian Airports Authority, National Inland Waterways Authority and even the Comptroller General of Customs never thought it wise to move out to confer with the freight forwarding organized groups on the best way to overcome compliance problems which have hitherto engulfed export and import regulations of the Nigerian international trade.
"The modern day administration is domiciled in the altar of public and private partnership and stakeholders engagement; delegation of duty, power and authority to the subordinates with its residual powers to reverse negative decisions, taken at any time including supervision and control of actions taken on its behalf," he said.
Copyright 2016 Ships & Ports Ltd. Permission to use quotations from this article is granted subject to appropriate credit given to www.shipsandports.com.ng as the source.