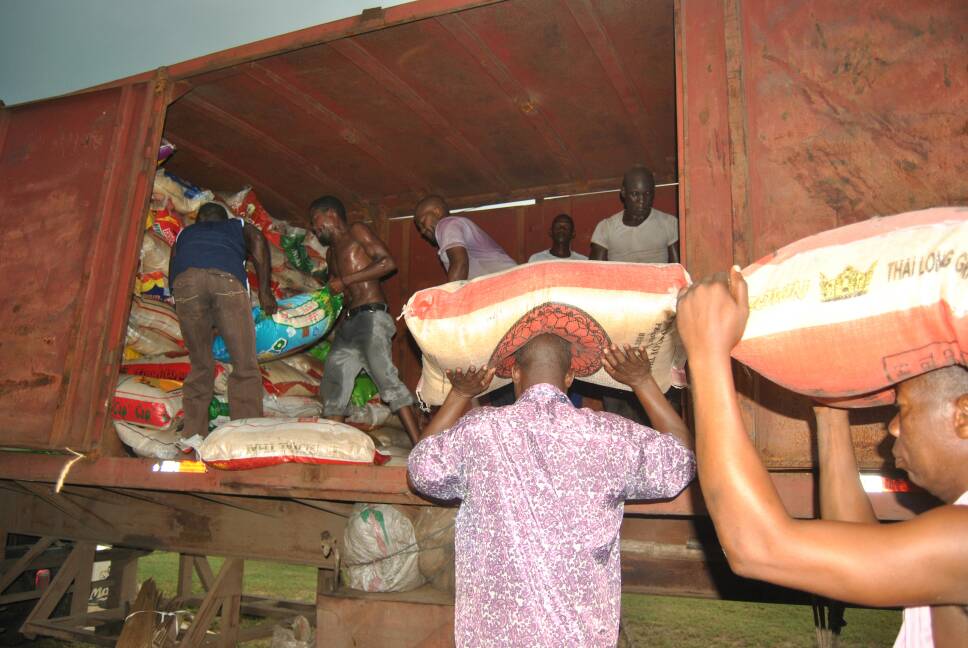 The Seme area Command of the Nigeria Customs Service (NCS) in compliance with the Presidential directive of releasing seized goods to the Internally Displaced Persons (IDP) camps have  handed over to the Nigeria Army a total of 12,051 bags of 50kg seized rice and other relief material for onward delivery to the IDP camps in the North Eastern part of Nigeria.
The relief materials included 1,025 Jericans of 25 litters of vegetable oil, 75 bales of used cloths, 22 sacks of used cloths and 67 sacks of used shoes,
Others are three sacks of used ladies handbags, 51 cartons of soap, 4,500 cartons of Tin Tomatoes and 500 bags.
"It could be recalled that the Seme area command of the Nigeria Customs Service has consistently been releasing the seized goods it has confiscated from smugglers through the neighbouring country to the IDP camps.
"The series of handing over and evacuation of seized rice that has taken place from the Seme warehouse ranges from 10,000x50kg, 6,000x50kg and now over 12,000x50kg bags of smuggled and seized rice through the corridor," Public Relations Officer of the command, Tapyen Selchang said in a statement, weekend.
Controller of the command, Comptroller Mohammed Aliyu, said the Comptroller General of Customs, had approved the release of the seized and condemned relief materials in compliance to the presidential directive thereby directing the command to do same to the Nigerian Army.
The Comptroller stated that the gesture will go a long way to ameliorate the suffering of the displaced persons and also support the current operations against Boko Haram terrorist in the North Eastern part of Nigeria.
The CAC restated that the border command would continue to enforced the Federal Government policies on all restricted and prohibited items through the land border, noting that the command would not shy away from its responsibility of aggressive anti-smuggling operations through the busiest corridor, if the smugglers will not stop perpetrating their illicit acts of being saboteurs to the efforts of the Federal Government in revamping the economy.
The above items condemned as required by law were handed over to the Nigerian Army through Lieutenant Musa.