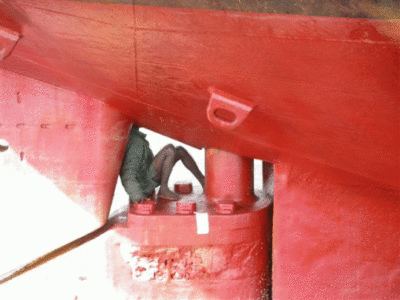 Six stowaways were sentenced to serve 150 hours community service at Ajeromi General Hospital for illegally boarding vessel without purchasing ticket, even as one of them admitted entering the ship illegally and dangerously through the propeller. 
"I boarded the ship at Tin Can Island Port. The ship came from Europe; it is a tanker vessel. As the ship was discharging at the port side, I was watching the vessel. I later got information that the ship was about to sail so I arranged with my friends and we boarded the vessel from the propeller.
"As the ship was sailing into the high sea, the crew saw us at the propeller side. We screamed that we are stowaways and not pirates. That was when we were handed over to Navy, then to Immigration and finally to the Police. We were tortured for 14 days at the Navy barrack.
"I know how to drive boat but no work. That is the reason I boarded the ship even though I was not sure of its destination. I just believe life over there is better because of the beautiful things people usually say about Europe," one of the convicted stowaways, Friday Igbighi (19), told SHIPS & PORTS DAILY on Friday. 
Another stowaway, Egbaulo Monday (29) said he is a fisherman but wanted to go to Canada to find another work.
He said, "I thought the ship was going to Canada. There is no work in Nigeria. I cannot steal that was why I just wanted to follow the ship wherever it is going. Maybe when I reach there, I will find a job to do."
Joseph Odusola (23) said he is a tailor but wanted to go to Europe because most of his friends are there.
"My friends and I planned to go to Europe because most of our friends are there. I am sure there is nobody who would not want to go such places. We believed that when we get there, blessings await us and we cannot suffer again," he told SHIPS & PORTS DAILY. 
On his own part, Okoro Otemuche (25), said he was pushed into boarding the ship illegally by friends and frustration. 
"Boarding the ship was due to frustration. I was chatting with my friend. His name is Chigozie Chika. I requested for some money from him, but he said he cannot give me money he will rather show me the way to make money that that was how he got himself to Europe. He got to Europe through ship. Though, it was not easy.  He said it is either you die or survive it. I told him I have not attempted it before. But he assured me that I can make it since I can swim.
"We track a ship going to Europe but we were not sure of its destination. So we tried it by boarding the ship through the propeller which is very risky. When we were caught, we screamed that we were stowaways and not pirates.
"I have made up mind never to embark on such a journey anymore. I know I have disgraced my family but it is not my fault because I am only struggling for survival instead of stealing," he said 
The Comptroller, Lagos Seaports and Marine Command of the Nigeria Immigration Service, Modupe Anyalechi told SHIPS & PORTS DAILY that the monitoring of the Lagos territorial waterways have made it impossible for stowaways to access the vessels from quayside.    
"Stowaways now resort to using paddle canoe with the assistance of fishermen to get into the vessels through the propeller when the vessels are gradually sailing to the high sea along the channel.
"Their reason for this act they claimed was in search of greener pasture in Europe and the Western World. Unknown to them is the fact that some of these vessels are coastal, whose activities are limited to West Africa and the Gulf of Guinea," Anyalechi said. 
Anyalechi advised the youths to desist from unwholesome act and look inward to explore the numerous opportunities available in Nigeria.