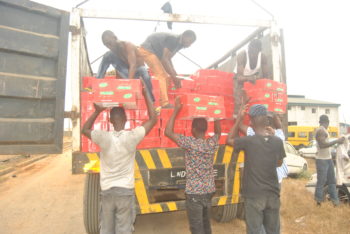 Operatives of the Seme area command of the Nigeria Customs Service have cracked down on smugglers and intercepted two truck-load of smuggled goods valued at N6 million.
The command said it also seized 2,200 cartons of smuggled tin tomatoes and 63 front and back light of used spare parts along the Lagos-Badagry Express road.
Public Relations Officer of the command, Taupyen Selchang, in a statement said the goods have been deposited in the government warehouse of the command.
While inspecting the seizures, Controller of the Command, Comptroller Mohammed  Aliyu,  disclosed that the new intelligent operational strategies adopted by the command had yielded positive results.
He said that the command generated N1.079 billion in the first two months of 2018 from the expected N1.35 billion target representing 80 percent of the expected target.
"The command's holistic approach in executing the mandate of the Service led to an all-encompassing result as revenue generation, suppression of smuggling and legitimate trade facilitation is adequately enhanced at the Lagos –Abidjan corridor without compromising national security," he said.
Comptroller Mohammed noted that Seme command is no longer a safe haven for illicit activities and trans-border crimes, as any attempt by deviant stakeholders are always met with stiff penalties by the officers of the command's anti-smuggling unit.
He admonished officers to ensure that the golden rules for the Service operation are always brought to the fore while discharging their statutory functions.
He also advised the officers on the need for positive attitudinal change, saying it is vital to the discharge of their professional functions with due diligence.