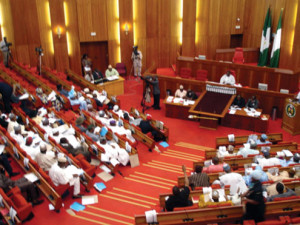 The Senate adjourned plenary abruptly on Thursday following a fire scare in the chamber. Huge smoke had engulfed the chamber which forced the air-conditioning system to cease functioning.
The source of the smoke, which extended to the corridors could not be immediately ascertained.
To allow the development to be controlled, Sen. Ibrahim Gobi raised a "Point of Order'', calling for adjournment of plenary.
"The environment is not conducive and as we can see, the air-conditioners are not working.
"So, I propose we adjourn to Tuesday,'' Gobi said.
In his remark, President of the Senate, Dr Bukola Saraki, agreed with Goje's position.
"I can see what you presented to the effect that the environment is not conducive and as such, I think we should adjourn to Tuesday when the chamber will be conducive,'' Saraki said.