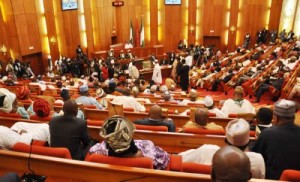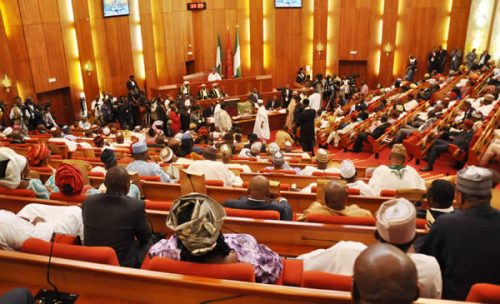 The Senate has asked the Revenue Mobilisation Allocation and Fiscal Commission ( RMAFC) to review the current revenue sharing formula. 
According to the legislature, the current formula does not reflect the current economic realities in the country.
The lawmakers decried the formula in use was designed to favour the Federal Government while the states and the local governments were struggling to survive economically.
The demand by the Senate followed the adoption of a motion moved by Senator Adamu Aliero at the plenary on Thursday.
It was titled, 'The Need for Revenue Mobilisation Allocation and Fiscal Commission to Discharge its Constitutional Function Under Paragraph 32 of the Third Schedule to the 1999 Constitution.'
Aliero, while moving the motion, noted that the RMAFC was established to review the revenue allocation formula and principles in operation, from time to time, to ensure conformity with changing realities.
He further noted that this must be done "provided that any revenue formula, which has been accepted by an Act of the National Assembly, shall remain in force for a period of not less than five years from
the date of the commencement of the Act."
Aliero said, "The Senate observes that the present Revenue Allocation Formula has been in operation before the commencement of this democratic dispensation in 1999; it is aware that there is no extant Act of the National Assembly accepting the present Revenue Allocation Formula, which means the formula in use now is unconstitutional;
"The Senate notes that the Constitution does not contemplate that a particular revenue formula is to be in force in perpetuity. In fact, the Constitution requires the formula to be reviewed every five years;
"The Senate notes also that the current formula is blind to present and changing economic realities and unjustifiably skewed in favour of the Federal Government."              
Meanwhile, three bills to legislate for reforms, covering host communities, investment and administrative issues in Nigeria's petroleum industry have scaled second reading in the Senate.
The three pieces of proposed legislation are: a bill for an Act to provide for framework relating to petroleum producing Host community's participation, 2017 (SB. 404) by Kabiru Marafa, APC-Zamfara; a bill for an Act to establish a fiscal framework that encourages investments in the petroleum industry, 2017(SB.472) by Tayo Alasoadura, APC-Ondo; and a bill for an Act to provide for the administrative framework for the Petroleum Industry, 2017 (SB. 540) by Bassey Akpan, PDP -Akwa Ibom.
The three bills were, on Thursday, referred to the joint committee on petroleum (downstream), petroleum (upstream) and gas, which are to report back to the Senate in four weeks.
They are parts of the Petroleum Industry Bill, now split into several bills.
The Senate had earlier passed the first part, Petroleum Industry Governance Bill.  
Copyright Ships & Ports Ltd. Permission to use quotations from this article is granted subject to appropriate credit given to www.shipsandports.com.ng as the source.