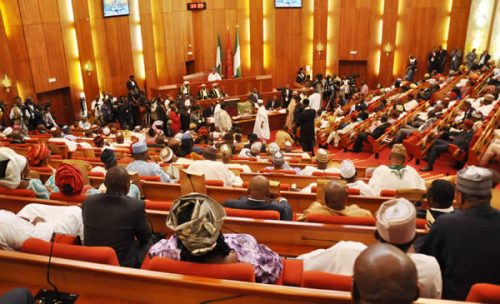 The Senate has called on the executive arm of government to review upward the 10 percent duty on the importation of soap noodles into the country.
The Senate faulted the situation where government raised the duty to 35 percent only to recently revert to the earlier 10 percent, which senators said would not augur well for the country's economy.
Adopting a motion by Sen Jibrin Barau (APC, Kano) and four others on Wednesday, the Senate said the earlier increase in import duty had made it unprofitable for manufacturers of soaps to import soap noodles from overseas.
As a result, the Senate said the manufacturers had resorted to making huge investments in setting up manufacturing lines to produce soap noodles in Nigeria to the tune of about N420 billion, while creating 250,000 jobs in the country.
However, the Senate said, the government made a downward review of the import duty from 35 percent to 10 percent, which it said would lead to "massive importation of soap noodles into the country."
The Senate said the current development would have negative impact on Nigeria's economy by reducing government revenues and collapsing the soap noodles industry with attendant unemployment.
Other effects, the Senate said, included being an impediment to government efforts toward developing local sourcing and self-sufficiency, act as discouraging signals to investors and putting pressure on the forex reserve, hence the stability of the naira.