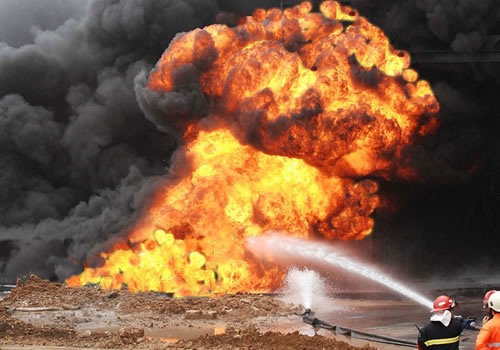 The Senate has blamed the Nigeria National Petroleum Corporation (NNPC) and Department of Petroleum Resources (DPR) for the death of over 150 Nigerians involved in a pipeline explosion in Abia State.
The 150 persons were killed when an abandoned pipeline from which they were scooping fuel exploded.
The pipeline is owned by Pipeline and Products Marketing Company, (PPMC).
A senator representing Abia Central Senatorial District, Theodore Orji, during plenary on Wednesday bemoaned the loss of lives in the explosion.
He said that the villagers had gone to scoop oil from the leakage as a means of livelihood when the explosion occurred.
Orji said the death of the victims occurred due to the negligence of duty by NNPC staff.
Another lawmaker, Victor Umeh, representing Anambra central said oil scooping should not be allowed, thus NNPC, DPR must prevent it.
He said, "It's very regrettable because people have refused to do their jobs. NNPC and DPR are supposed to do monitor these issues. Scooping oil should not be allowed. From the incident, it is clear the leakages were reported but those in charge ignored these reports."
However, a senator representing Abia North Senatorial District, Mao Ohuabunwa, called for an investigation of the oil spillage and the lives lost in the incident.
"I want to say it was a gory site. I saw human lives charred like rats. This is due to the negligence of PPMC and DPR. We have lost premium on human lives. This calls for a serious investigation. The committee on downstream should investigate this.
"It's a pure case of negligence. We should set up an ad-hoc committee and the Senate should send a delegation to commiserate with the people of Osisioma. They don't just need relief material but medicament," Ohuabunwa said
Senate President, Bukola Saraki urged "the Committee on Petroleum Resources and Police Affairs to perform a proper investigation and offer recommendation."
Saraki said, "From the presentations and those who have contributed, this is just clear negligence on the part of those who are responsible. They could have prevented the loss of 150 lives."