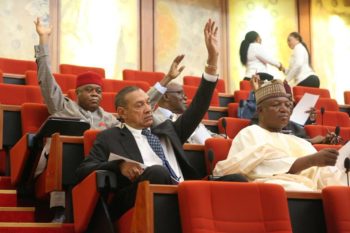 The Senate has passed the bill for the establishment of Nigerian Maritime University in Delta State, thereby bringing the proposed school close to gaining statutory status, three years after its foundation was laid.
The groundbreaking of the proposed school at Okerenkoko in Warri south-West local government area was done by former President Goodluck Jonathan in 2014 and, according to the Minister of State for Petroleum Resources, Ibe Kachikwu, physical assets were on site.
However, there was no law backing the establishment of the university.
The bill for its establishment was passed by the Senate on Thursday, following the report of the committee on tertiary education and TETFUND chaired by Barau Jibrin, APC-Kano.
The bill was sponsored by James Manager, PDP-Delta.
The passage came well over one year after the Minister for Transport, Rotimi Amaechi, hinted at the scrapping of the school whose founding he described as a "misplacement of priority" and "waste of resources".
Amaechi also cited insecurity as basis for his argument against the school.
Amaechi also expressed concerns with the payment of a huge N13 billion for the procurement of land for the school, allegedly, to wanted militant leader, Tompolo.
"My argument about Okerenkoko is that land alone is 13 billion (naira). If you give me 13 billion, I will buy the half of Lagos. That 13 billion has built the university already," said Amaechi during a town hall meeting in Uyo on June 14, 2016.
But the Minister of State for Petroleum, Ibe Kachikwu disagreed with Amaechi, saying he was in support of the project, drawing a loud applause from the audience, at the meeting moderated by Information Minister, Lai Mohammed.
"Any facility that is located in the South-South we should work close to developing it," said Kachikwu. "I don't care the circumstances under which you are placed."
"So much physical of assets are being developed. We are not going to throw away the baby with bath water. We deal with the issues but the university will be developed. If he (Amaechi) does not want it in Maritime, I will take it in petroleum."
The Senate referred the bill for consideration of the education committee in November 2016, when it scaled second reading.
Manager, the sponsor, argued that the maritime sector had huge potentials and that Nigeria should have a university for the purpose of producing capable manpower for the sector which, as he said, is currently dominated by foreign interests.
On suitability of Okerenkoko for the project, he said the area was close to the sea and surrounded by oil wells.
The bill will now be transmitted to the House of Representatives for concurrence and the later for President Muhammadu Buhari's assent, before it becomes law, which woul allow the school access to funding from the annual budget.   
Copyright Ships & Ports Ltd. Permission to use quotations from this article is granted subject to appropriate credit given to www.shipsandports.com.ng as the source.