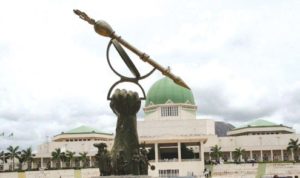 The Senate on Thursday, passed a Bill for the establishment of the Nigerian Agricultural Quarantine Service 2016. The Bill sponsored by Sen. Abdullahi Adamu (APC- Nasarawa) seeks to prevent the introduction, establishment and spread of exotic pests and diseases from plants, animals and aquatic resources and their products into the country.
It further seeks to controlling regional and international movement of animals to prevent the introduction and spread of diseases. In line with international best practices, as well as ensures that agricultural exports meet international standard set by the International Plant Protection Convention.
According to Senator Abdullahi , the Nigerian Agricultural Quarantine Services was established as a department and regulatory arm in the Federal Ministry of Agriculture and Rural Development, adding that the very objective of the department was to harmonise the quarantine of plants, vertinary and aquatic resources in Nigeria.
The Senator who explained that crop pests in many part of the world cause serious damage in crops and fruit thereby limiting access to fruits in local and international markets, said, "It is on record that crop pest attacks fruits like mango, citrus cocoa, cashew, and most recently, tomatoes. This can cause economic loses of between 20-70 per cent of such crops. Another example of pest is on banana bunch whose presence has being confirmrd in some towns in Ogun through the use of molecular diagnostic technique called PCR."
Senator Abdullahi who noted that such situation was worrisome because, when the issue of pest activities struck, it compromises agricultural economy, undermine public health, cause famine and affect food security."
According to him, Nigeria had suffered huge loses due to attacks by pests.