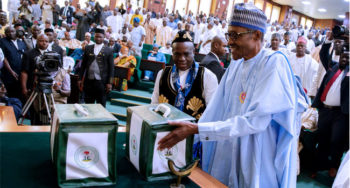 The Senate on Tuesday rescheduled its planned debate on the 2018 Appropriation Bill submitted by President Muhammadu Buhari.
The Senate president, Bukola Saraki, told members of the upper chamber that discussions will now start on November 28.
Saraki said the postponement was due to the delay in the passage of the 2018-2020 Medium-Term Expenditure Framework, MTEF, and distribution of budget documents.
The Senate president had on November 16 announced that the consideration will hold on Wednesday and Thursday this week.
"We have to pass the MTEF which we are hoping to be laid by tomorrow(Wednesday) to be passed this week," he said while announcing the change.
"Secondly, the distribution of documents. I hope you have all received the documents accompanying the 2018 budget."
He announced the documents to include; "revenue and expenditure of FGN owned enterprise and agencies, the consolidated 2016 implementation report, budget implementation report for first quarter 2017 and second quarter 2017 and also budget volume one and two and the joint sitting votes and proceedings also should be received today."
He said November 28 and 29 will be dedicated to debate on the budget, while November 30 will be for the debate on revenue and expenditure budget of FGN on enterprise and agencies.