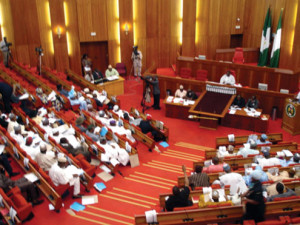 The Senate on Tuesday mandated its committee on environment to investigate the implementation of the Ogoni clean-up exercise.
The Federal Government launched the project in June last year with initial cost of $1 billion.
Apart from investigating the Ogoni clean-up, the same committee was also asked to assess the progress of the Great Green Wall programme initiated to control desertification in the country.
The resolutions followed a motion on "World Environment Day" sponsored by the Chairman, Senate Committee on Environment, Senator Oluremi Tinubu (Lagos Central) and members of her committee.
Tinubu expressed worry that despite the launch of the project, work has not commenced in the area.
Senator Magnus Abe also told the Senate that there was nothing on ground to show that the Ogoni clean-up exercise designed to clean the area including farmland and rivers of oil spill is a government priority.
He urged federal government to review the country environmental regeneration programmes.