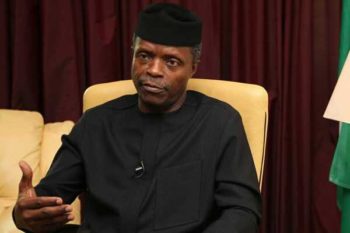 Acting President Yemi Osinbajo says Nigeria is one of the most profitable places in the ECOWAS sub-region for business and investment.
His spokesman, Laolu Akande, quoted him as saying this at the Presidential Villa in Abuja on Tuesday while meeting the Foreign Minister of Indonesia, Retno L. P. Marsudi.
According to the acting president, with her large population and size, "Nigeria has a prerequisite market for profitable returns on any investment and business."
Citing the success of Indomie, one of the products by an Indonesian company in the Nigerian market, Osinbajo said "there is much room to increase the volume of trade between both countries.
"Nigeria is one of profitable places for business and investment because there is always market for them and government is creating a good and friendly environment for investment to thrive."
He urged Indonesia to take advantage of the on-going economic diversification process, especially in the agricultural sector, adding that Nigeria could be exporting agro-allied products to Indonesia.
"About ten days ago we signed Executive Orders for Ease of Doing Business, we have a 48 hour visa regime and all that. There is a friendly business environment," he said.
Earlier, the Foreign Minister of Indonesia said was in Nigeria with 200 business people and had visited Lagos as her country was ready to kick-start business relationship with Nigeria.
She solicited the establishment of Palm Oil Producing Council between Nigeria and Indonesia, stressing that countries producing palm oil should work together in order to benefit maximally the market.