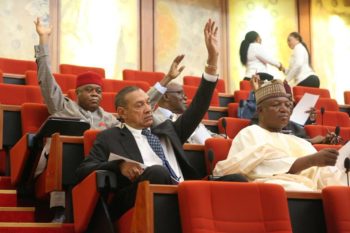 By Patience Danjuma 
The Senate on Wednesday resolved to set up an ad-hoc committee to investigate allegations of economic wastage of seized goods against the Nigeria Customs Service (NCS). 
In a motion sponsored by Mohammed Hassan, Yobe-PDP, the Senate criticised the NCS' habit of hoarding seized perishable goods of, "high economic value" that should otherwise be auctioned to the public. 
Hassan said he had received reports indicating that the Nigeria Customs' warehouses in Kano, Kastina, Sokoto, Maiduguri, Western Marine Lagos, Eastern Marine Port Harcourt and Zone C Federal operations Owerri and Port Harcourt are currently filled with seized perishable items, "rotting away at great cost to the economy."
He said, "The Senate notes with dismay that these items which ought to have been kept for only for a short interval are now being kept for so long in the Custom's warehouses, amounting to large economic waste.
"The Senate notes that prior to now, these goods when seized are auctioned off by the Customs to the general public.
"However, these auctions are rarely done in recent times and these reports show that the Customs warehouses are brimming with spoiled or almost spoiled goods while people are dying of hunger."
Hassan added that such a development is not in the general interest of the economy. He also called on the NCS to decongest its warehouses and turn "these wastes to useful gain for the country". 
The Senate subsequently resolved to set up an ad-hoc committee to investigate the veracity of the claims and advise it accordingly. 
Copyright Ships & Ports Ltd. Permission to use quotations from this article is granted subject to appropriate credit given to www.shipsandports.com.ng as the source.