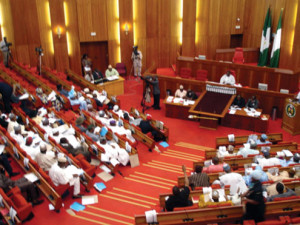 The Senate on Tuesday queried the Central Bank of Nigeria (CBN), Nigerian National Petroleum Corporation (NNPC), Federal Inland Revenue Service (FIRS) and 35 other federal agencies over the delay in the submission of their budgets.
The agencies and corporations are mandated in line with the Fiscal Responsibility Act 2007 to submit their budgets to the National Assembly for scrutiny and passage.
The Deputy Senate Leader, Senator Bala Ibn Na'Allah (APC, Kebbi) who raised a point of order during plenary said the agencies are supposed to submit their budgets in September last year.
" I am the one responsible for the collation of reports and we have not received one single report regarding the budget of parastatals, which were supposed to have been given by September. I want to put it on record. We have not received any report. I don't know whether the chairmen have received.
" In our commitment to assist this government to fight corruption, we must stamp our feet that every spirit of our laws must be obeyed by those holding public office. And the only way we can build institutions is to radically address the issue of abuse of power and misuse of power,"he said.
Responding, the Senate President, Senator Bukola Saraki said the issue must be taken very seriously, " because clearly these agencies are just flouting the guidelines and breaking the law.
" This is a very serious issue because as we all know, in line with the Fiscal Responsibility Act, these things are meant to have been submitted since September. I think this matter really needs to come as a motion because it's a very serious matter, we need to debate it because we are already in May and how can parastatals be operating without any budget, especially in this time of fight against corruption? He said.
Recall that the 2016 budget of the affected agencies was submitted in July of that year by President Muhammadu Buhari.
Other affected agencies are Nigerian Ports Authority (NPA), Securities and Exchange Commission (SEC) National Agency for Food and Drug Administration and Control (NAFDAC), Bureau of Public Enterprises (BPE), National Maritime Authority (NMA), Federal Airport Authority of Nigeria (FAAN), Nigerian Communications Commission (NCC), Nigerians Deposit Insurance Corporation (NDIC), Nigerians Immigration Service (NIS), Federal Housing Authority (FHA), Federal Mortgage Bank (FMB) and Corporate Affairs Commission (CAC), amongst others.