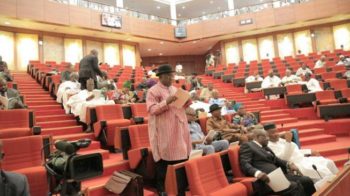 The senate has agreed on $44.5 per barrel as benchmark price for the 2017 budget, as against the $42.5 per barrel earlier submitted by the executive in the 2017-2019 Medium Term Expenditure Framework (MTEF) and Fiscal Strategy Paper (FSP).
The legislators also adopted the N305 to a dollar exchange rate as presented by the executive, but they asked the Central Bank of Nigeria (CBN) to initiate measures to close the gap between the parallel and official markets.
The MTEF and FSP will serve as parameters for the N7.298 trillion 2017 budget, which President Muhammadu Buhari laid before a joint session of the national assembly on December 14.
While considering a report from its joint committee on finance, appropriation and national planning on the MTEF and FSP, on Wednesday, the legislators agreed on the executive's proposed oil output level of 2.2 million barrels per day.
"The joint committee recommends the adoption of the projected N5.122 trillion for non-oil revenue in 2017. In addition, revenue-generating agencies should intensify their revenue collection drive in order to boost non-oil components of the revenue," the report read.
"The joint committee recommends the adoption of N807.57 billion for federal government independent revenue for 2017. It further recommends the review of legal framework of relevant MDAs and Government owned enterprises.
"The joint committee recommends the adoption of 2017 borrowings but insists that the new borrowings should be on project-tied basis."
Commenting on the report, Ben Murray-Bruce, senator representing Bayelsa east, said the N305-to-a-dollar exchange rate is unrealistic.
"Black market is about N500 (to one dollar). This will make Nigerian businessmen round-trip; N305 is not realistic," he said.
"Recurrent expenditure is still better, 70 to 75 percent, and that has not changed. Nigeria will not develop that way; it should be reduced by 50 percent so that we can put more in capital projects."
However, Ahmed Lawan, senate leader, dissented, saying the 2.2 million barrels per day is realistic.
"The budget should reflect what is contained in the MTEF," he said.
The senate adopted the recommendations from the committee after it was put to a voice vote by Ike Ekweremadu, deputy senate president.
Copyright Ships & Ports Ltd. Permission to use quotations from this article is granted subject to appropriate credit given to www.shipsandports.com.ng as the source.