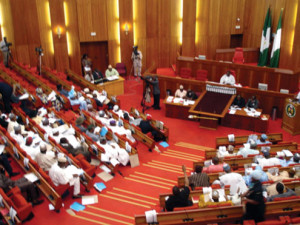 The Senate on Wednesday finally approved the revised version of the 2017-2019 Medium Term Expenditure Framework and Fiscal Strategy Paper.
The upper chamber of the National Assembly approved all the critical projections in the MTEF/FSP as proposed by the executive, except the oil benchmark, which was increased from the proposed $42.5 to $44.5.
The lawmakers retained the oil output of 2.2 million barrel per day and exchange rate of N305 to a United States dollar.
The Senate adopted the proposals as recommended by the joint Committee on Finance, Appropriations and National Planning in its report, which was presented to the lawmakers at the plenary on Wednesday.
President Muhammadu Buhari had in October 2016 sent the MTEF/FSP to the Senate, which will serve as the foundation for the 2017, 2018 and 2019 national budgets.
The President had also on December 15, 2016, presented the 2017 Appropriation Bill to the National Assembly, with a total estimate of N7.298tn. The legislature has yet to work on the budget for to the delayed passage of the MTEF/FSP.
Deputy President of the Senate, Senator Ike Ekweremadu, who presided over the plenary, described the passage as "a very important step towards the passage of the 2017 budget."
He said, "Hopefully, if we pass this MTEF/FSP, we will be in the position to comment on the consideration of the 2017 budget by next week. It is therefore important that we conclude the discussion on this subject and ensure that it is passed today.
"Having listened to the comments, it appears to me that the only area that needs to be emphasised is the issue of the exchange rate. We are worried with the huge gap between the parallel market and the official market and as it has been said by the Chairman of Appropriations (Committee), the Central Bank of Nigeria (CBN) needs to do something about it because it is one thing that is breeding corruption.
"We must find a way of bridging that gap and also stabilise the exchange rate so that investors can do its own forecast in terms of their investments.
"We believe that something needs to be done in the area of the exchange rate."