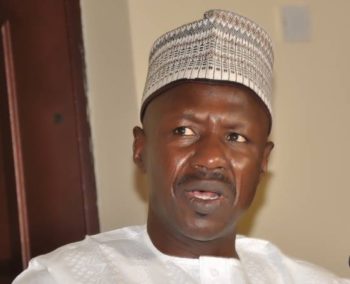 The Senate has again, Wednesday, rejected Ibrahim Magu as the Economic and Financial Crimes Commission (EFCC) boss. This is the second time the Senate is rejecting Magu as the substantive chairman of the anti-graft agency.
At the Senate's plenary today, majority of the Senators rejected the confirmation of Magu as the EFCC boss through popular vote.
However, Senator Ali Ndume in a Point of Order protested the non-confirmation of Ibrahim Magu and states that Senate received two letters. He agreed that Majority will have its way but minority must have its say.
To this, the Senate President, Bukola Saraki said "We should not rubbish the entire institution because of an individual."
Earlier,  Ibrahim Magu had given a brief introduction about himself before the Senate. Magu had told the Senate that, "I look forward to bringing new strategies for fighting corruption."
He said, "We look forward to restructuring the Commision, expanding operations in Ibadan and Maiduguri, improve Man power capacity.
The Deputy Senate President, Ike Ekweremadu after thanking Magu asked about the operations of the EFCC on disobeying court orders and cases of human rights abuse. He asked how EFCC under Magu will fight corruption.
The acting EFCC boss was also asked by Sen. Atai Aidoko about the operational procedure in detaining suspects on investigation under Magu.
In his response, Magu said he did not come with the DSS report on the investigation carried out.
He cited that a human right activists once said EFCC's cells are like hotels and there is too much comfort in there, therefore, reports of DSS claiming inhumane treatment of suspects in the EFCC's cells cannot stand.
Concerning allegations about the house he bought without due procedure, Magu said, he only stayed there because of its close proximity to work and to avoid late night movement.
Also, the Senators asked Magu to explain his findings from the investigations done by the commission on the Paris club fund and how much the commission has recovered from looters so far.
Senator Shehu Sani asked, "You need to expantiate on your activities on human rights,What are your findings and activities on the Paris Club fund."
"How much funds has been recovered since you took charge of the commission," asked Sen. Duro Faseyi.
Magu replied by saying, "It is difficult to give report on how much has been recovered from fight against corruption."
He said although EFCC is not always right on its decisions, but the agency strive to do its best.
Recall that in December last year, the Senate rejected the confirmation of  Ibrahim Magu as the Chairman of the EFCC. The Senate said security reports about the person of  Magu was not favorable for his clearance for the anti-graft agency's top job and asked President Muhammadu Buhari who nominated him to immediately replaced him.