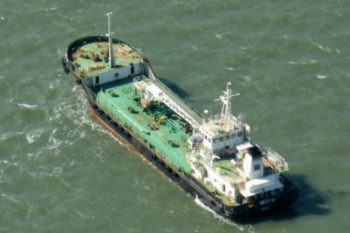 Pirates off the coast of Somalia, who hijacked an oil tanker with eight Sri Lankan crew on board, are demanding a ransom for the release of the vessel, the EU Naval Force said.
The pirates seized the Comoros-flagged Aris 13 tanker on Monday, the first such hijacking in the region since 2012, and took it to the port of Alula in the semi-autonomous northern region of Puntland.
"The EU Naval Force … has received positive confirmation from the master of … Aris 13, that his ship and crew are currently being held captive by a number of suspected armed pirates in an anchorage off the north coast of Puntland, close to Alula," the force said in a statement late on Tuesday.
EU Navfor said as soon as it received an alert on the ship's seizure, it sent patrol aircraft from its Djibouti base to try to make radio contact and late on Tuesday its headquarters in London managed to contact the vessel's master by phone.
"The master confirmed that armed men were on board his ship and they were demanding a ransom for the ship's release. The EU Naval Force has now passed the information regarding the incident to the ship's owners," EU Navfor said.
It gave no details on the size of the ransom.
The 1,800 deadweight tonne tanker is owned by Armi Shipping, a company registered in Panama, and managed by Aurora Ship Management in the United Arab Emirates, according to the French transport ministry's Equasis shipping data website.
Experts said ship owners were becoming lax after a long period of calm, and that the vessel was an easy target because it was low, slow and close to the coast.
Aid group Oceans Beyond Piracy said in a statement late on Tuesday the ship was carrying gas and fuel and was not registered with the Maritime Security Center for the Horn of Africa, which registers and tracks vessels in the region.
The group said the Aris 13 was preparing to go through a route known as the Socotra Gap, between Somalia and Socotra Island which vessels often use, regardless of the piracy risks, to save time and cost.
"This attack reinforces the need for vessels to follow shipping industry Best Management Practices (BMP) within the BMP specified High Risk Area," Oceans Beyond Piracy said.
There was no immediate comment from the ship's owners and managers.
In their prime in 2011, Somali pirates launched 237 attacks off Somalia's coast, data from the International Maritime Bureau showed, and held hundreds of hostages.
That year, Oceans Beyond Piracy estimated the global cost of piracy at about $7 billion. The shipping industry bore roughly 80 percent of those costs, the group's analysis shows.
However, attacks fell off sharply after ship owners tightened security and vessels stayed further away from the Somali coast.