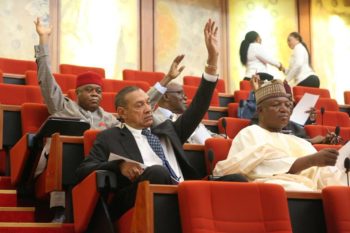 The senate on Thursday stood down the national road funds bill, which has been generating controversy in recent times.
The bill had proposed, among other things, a N5 levy on every litre of petroleum product imported into the country. 
The proposal had sparked outrage, after which the leadership of the upper legislative chamber assured Nigerians that petrol price would not be increased. 
When the report of the bill was presented for consideration on Thursday, many senators complained about it, which made the upper legislative chamber step it down and direct the committee on works to do more work before re-presenting it.
Earlier, Kabiru Gaya, chairman of the committee, said the legislation proposed a deduction of N5 on fuel products imported into the country, which would go to the roads fund.
"Anybody who sells between N135 and N145, we are going to spend N5 and it will be in this template so that this money goes directly to the road funds. 
"The fuel levy on imported petroleum products; there shall be a levy on imported petroleum products and a deduction of N5 per litre on any volume of petrol and diesel products imported into Nigeria," he said.
Gaya said countries like Ghana and Kenya fund roads from fuel levy.
"We are not proposing for toll gates right now, we are saying that when roads are good and when there is concession on the roads, then we can put toll gates," Gaya said.
Kabiru Marafa, senator representing Zamfara central, said the proposed levy would not only bring hardship to the people, but "pressure" to downstream sector.
"These two items (clauses) will bring untoward hardship to the people of Nigeria. The assertion that the 5 percent is being captured in the template is not entirely correct. There is always a template that determines the pump price of petroleum products," Marafa said.
"N145 is not realistic, as I am talking to you today we are still investigating NNPC because they are still practising the fuel subsidy regime."
On her part, Binta Garba, senator representing Adamawa north, said the relevant committees should look into the bill and re-represent it to the senate for deliberation.
"It is either we step it down and allow other committees to look into it and areas we are having issue with, then we can reverse back to deliberate on it," she said.
"They way we are going, most of us need clarification to be well guided on the source of funding of the roads we are talking about."
After the submissions of the senators, Gaya moved for the stepping down of the bill, which was put to a voice vote by Ike Ekweremadu, deputy senate president.  
Copyright Ships & Ports Ltd. Permission to use quotations from this article is granted subject to appropriate credit given to www.shipsandports.com.ng as the source.