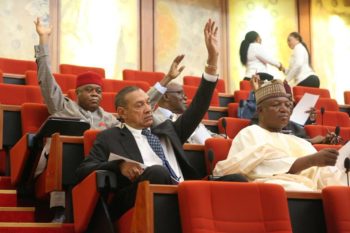 The Senate on Wednesday said it will investigate anomalies in the renewal of oil leases by the Ministry of Petroleum Resources.
Nigeria is Africa's biggest crude oil producer and oil sales make up around two-thirds of the Federal Government revenue. Oil companies must periodically renew their oil block licences to continue extraction or exploration.
The Senate voted for a committee to "report to the Senate the anomalies in the ongoing lease renewal process and identify appropriate measures to correct the said anomalies".
It followed the reading of a motion on the floor of the Senate which stated that "illegal discounts and rebates" had been granted by the ministry.
"The ongoing lease renewal process is capable of denying government revenue in excess of $10 billion as a result of illegal discounts and rebates in the process of lease renewal," the motion stated.
The Director of Press at the Ministry of Petroleum Resources, Idang Alibi, declined to comment.
On July 10, lawmakers in the House of Representatives voted to investigate the state oil firm, the Nigerian National Petroleum Corporation, over a shortfall in revenue remittances to government coffers.
Agency Report