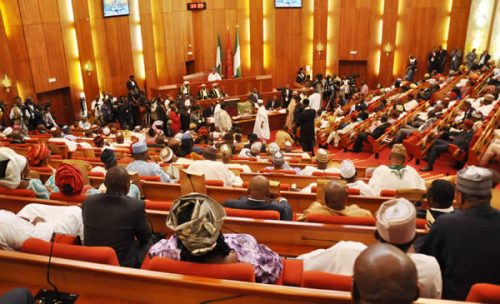 The Senate Committee on Trade and Investment Monday discovered alleged plan by the management of the Nigeria Export Processing Zones Authority (NEPZA) to pad the agency's 2018 budget to the tune of N205 million.
The committee said that the agency also over bloated its personnel cost in 2017 budget in excess of N122 million
This discovery was made when the Managing Director of the agency, Hon. Emmanuel Jime and other top officials appeared before the committee for their 2018 budget defence.
A member of the committee, Senator Usman Bayero Nafada took up the management of the agency on the request for N638 million for personnel cost in their 2017 budget out of which N505 million has been used for salary payment up to November 2017.
Nafada noted that based on the N505 million already used by the agency to pay salaries of its workers up to November, only N11 million was needed for December salary and not the balance of N133 million.
The Gombe North Senator drew the attention of the members of the committee to a proposal made by the agency to hike its personnel cost in the 2018 budget to N710 million.
He noted that if NEPZA in 2017 had excess of about N122 million on personnel cost out of the N638 million, "why request for N710 million in 2018 which if approved, would result in surplus of N205 million."
Nafada added, "This is unacceptable and should not be allowed to scale through by this committee."
Chairman of the committee, Senator Sabo Mohammed asked NEPZA MD to explain the surplus.
Jime could not convince the senators with his explanations that the surplus was due on promotion arrears.
He also blamed the surplus on the office of the Accountant General of the Federation saying "The surplus was not created by us but rather what was approved for us by the AGF office. "
The committee faulted his argument by telling him that the AGF office works on projections and approvals forwarded to it as far as personnel cost is concerned.
The committee resolved to limit the personnel cost of the agency for the 2018 to N516 million.
It also resolved to take the excess of N205 million to capital votes since the agency is expected to fund its overhead budget with internally generated revenues (IGR).  
Copyright Ships & Ports Ltd. Permission to use quotations from this article is granted subject to appropriate credit given to www.shipsandports.com.ng as the source.