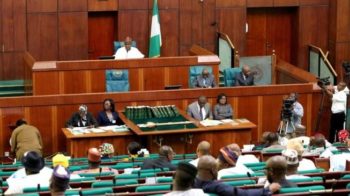 The House of Representative Committee on Maritime Education, Safety and Administration has frowned at the low performance of the 2017 appropriation budget of the Nigerian Maritime Administration and Safety Agency (NIMASA).
Speaking on Wednesday during an oversight visit of the Committee to NIMASA, the Chairman of the Committee, Muhammed Umar Bago, threatened zero allocation for the agency in 2018 if its 2017 capital budget is not fully expended.
Bago said the lawmakers cannot continue to appropriate money to agencies that will not utilize it.
The lawmakers had approved N169.1 billion as the agency's total budget for 2017. N14.6 billion is for capital projects, out of which the agency spent N5.5 billion; an amount the Committee said was not good enough.
According to Bago, "It is a shame if we give them (NIMASA) money to spend on appropriation and because of bureaucratic acumen they are unable to spend it. So, they shouldn't expect us to give them money next time and we have pledge as a committee and as a parliament that anyone we give resources to spend and did not, we will only give in the next appropriation the percentage of what it spent in the previous year and I have threatened NIMASA I will give them zero allocation in 2018 if they don't spend money allocated for 2017."
Bago also urged NIMASA to step up in its coastal security and guards to chase criminals out of the nation's territorial waters.
"We did a public hearing on this issue and the Chinese especially have taken over fish trawling business and that is wrong. That is why we are asking NIMASA to step up its game. If it is resources they want, we will make provisions to them appropriately but we must wake up to the reality. We must protect our water and give our indigenous businessmen opportunity to do their business," he said.
The Director-General of NIMASA, Dakuku Peterside however disagreed with the Committee chairman saying the agency has expended 80 percent of its allocation on capital project.
He said, "I think we didn't quite get the Chairman. We have made over 80 percent accomplishment of the capital budget provision though we have challenges in few because we have to go through the regimented procurement process but I believe that we should be able to get to 100 percent. But if we can't get to 100 percent, with 80 percent accomplishment we have done our best."
On insecurity on the nation's waterways, he said, "I recall that lot of initiatives have been put in place and one of them is the one approved by the Federal Executive Council (FEC) called the presidential maritime security intervention where we are supposed to acquire lot of asset and worked with the Nigerian Navy and Air force to enhance the patrol of our waterways.
"The project is on course and once we commence full implementation, it will yield the desired result. We are pursuing early passage of the anti-piracy bill that will criminalise maritime crimes. We have also invested in maritime intelligence gathering in our maritime surveillance gathering and we are close in integrating the satellite surveillance system in the Navy falcon eye. 
"We have improved on intelligence gathering. We have improved enforcement and are working closely with the Navy and renewed our MoU with the Air Force. He (Bago) suggested that we should engage more platform and we are doing that. We have done tremendous improvement in coastal security. We have taken note of the suggestions and we will continue to invest our time and talent in improving coastal patrol."