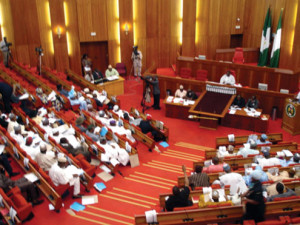 The Senate has urged the Federal Government to quit its participation in the Economic Community Of West African States' trade liberalisation scheme and common external tariffs.
The lawmakers also urged the government to review the process of enacting the tariff handbook to identify all abuses and revenue leakages.
The upper chamber of the National Assembly on Tuesday acted on a motion moved by Senator Hope Uzodinma, titled, 'The Abuse of Customs Tariff and Indiscriminate Issuance of Fiscal Policies and the Negative Impact on the National Economy.'
While moving the motion, Uzodinma noted that the ratification of the Common External Tariffs and the ECOWAS Trade Liberalisation Scheme (ETLS) in year 2000 was fallout of the formation of ECOWAS.
Uzodinma stated that the ECOWAS integration package should not have been signed, as "Nigeria was not and is still not in the same economic level with other West African countries."
He added the country had made a huge industrial advancement and was ready for a giant leap into the league of developed countries.
He added, "In spite of the provisions in the CET for strategic local industries by harmonising most tariff lines with ECOWAS' low duty rates of one per cent, five per cent and 10 per cent, the harm to local industries was already irretrievable. The ECOWAS member states are 90 to 95 per cent import dependent and Nigerian population is three times of all other ECOWAS member states put together."
Copyright Ships & Ports Ltd. Permission to use quotations from this article is granted subject to appropriate credit given to www.shipsandports.com.ng as the source.