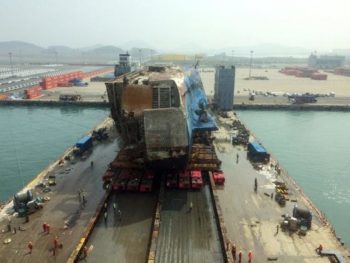 Heavy lifting and transportation company ALE completed the load-in of the Sewol wreck using a record-breaking number of self-propelled modular transporters (SPMTs), as part of a complex salvage operation in the East China Sea in April.
At 17,000 tons, this was the heaviest piece ever to be transported by SPMTs, according to the company.
ALE was contracted to perform the load-in operations of the ferry, which tragically capsized three years ago.
Although the wreck was estimated to weigh between 11,000 and 13,000 tons, moving of the ferry posed a challenge, as there was no way of confirming its actual weight and CoG position until it was lifted from the sea and positioned onto the barge, ALE said.
After the arrival at the load-in location, it was discovered that a significant amount of mud remained inside the vessel, that increased the weight by 4,000 tons. The company said it had to mobilize the additional 144 axle lines to receive the semi-submersible vessel from the barge onto 600 axle lines of SPMT.
The ferry transport position – laying on the side rather than on the hull – and the widespread damages to the ferry's hull and superstructures, posed an additional challenge to the ALE team because of the potential unpredictable deformations of the cargo during the load transfer from the grillage beams and the transport phase, according to the company.
"This was an extremely strategic project, not only for ALE's South East Asia region, but for the entire ALE group. Despite the short notice for mobilisation, the complete load-in operation was controlled by ALE, included the engineering and project management," Roberto Radicella, General Manager of ALE's Malaysia branch, explained.
The ferry sank off Jindo Island on April 16, 2014, killing 304 people, 250 of which were high school students on a school trip.
Copyright Ships & Ports Ltd. Permission to use quotations from this article is granted subject to appropriate credit given to www.shipsandports.com.ng as the source.