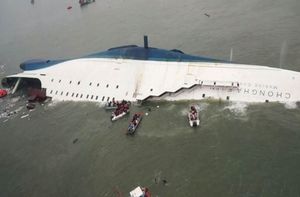 South Korean authorities have identified a bone found at the Sewol sinking site in early May as belonging to one of the nine still missing persons, according to the country's Ministry of Oceans and Fisheries.
The bone was identified to be from Danwon High School teacher Go Chang-suk. The 35-centimeter shinbone, which was located during an underwater search of the wreckage site near Jindo, was the first major discovery since the start of the investigation in April.
Over the weekend, the search party found 16 bone pieces on the fourth deck. The remains were reportedly identified as belonging to a student of Danwon High School, Cho Eun-hwa.
Earlier this week, the teams conducting a search operation aboard the salvaged wreck found 13 human bone fragments, Korea Herald cited data released by the Ministry of Oceans and Fisheries. Nine fragments were located inside a passenger cabin on the ferry's third deck, while the remaining fragments were found in mud collected from the third and fourth decks.
Korea Herald added that the fragments would be sent for DNA analysis.
The 6,800-ton Sewol ferry sank on April 16, 2014, off Jindo Island resulting in the deaths of 304 people. 250 of the ferry's passengers were high school students on a school trip.
Almost three years after the ill-fated event, the South Korean government managed to lift the wreck from the seabed. The resting place of the ship was some 44 meters below the surface.   
Copyright Ships & Ports Ltd. Permission to use quotations from this article is granted subject to appropriate credit given to www.shipsandports.com.ng as the source.