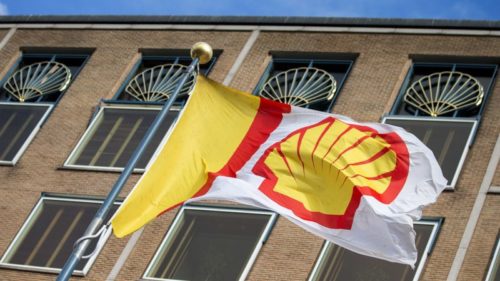 Anglo-Dutch oil major, Shell, says the sale of onshore Oil Mining Lease (OML) 42, where it suspects an executive took bribes was not linked to a separate court case in which he and Shell face corruption charges over a $1.1 billion offshore acquisition.
Shell filed a criminal complaint in March against Peter Robinson, a former vice president for sub-Saharan Africa, saying he took bribes in the $390 million sale of onshore Oil Mining Lease (OML) 42 to a Nigerian firm.
Robinson is also one of several former Shell employees involved in a trial in Milan, in which Shell and Italy's Eni are accused of corruption related to the $1.1 billion purchase of a giant Nigerian offshore field, Oil Prospecting Licence (OPL) 245.
Both the OML 42 and OPL 245 deals were signed in 2011.
Shell, the largest foreign investor in Nigeria, said in a statement to Reuters, that it had completed an internal review of the OML 42 sale process and other deals Robinson was involved in, and it concluded his only violation was related to OML 42.
Shell, Eni and Robinson deny any wrongdoing in the OPL 245 case. Robinson also denies any wrongdoing in the OML 42 sale.
Regarding the OML 42 sale, Shell said, "We have found no evidence to suggest that this was anything other than an isolated breach by a former employee, operating deliberately outside of Shell systems or controls."
"We have also found no evidence of a connection between Robinson's actions on OML 42 and OPL 245, and we have reconfirmed this to the Dutch Public Prosecutor," Shell said.
Shell filed its complaint against Robinson to the Dutch prosecutor.
The Dutch prosecutor's office confirmed on Thursday it had received further information from Shell but offered no additional comment, saying it was still evaluating all the information and determining next steps.
Robinson's lawyer, Chiara Padovani, said her client "denies any allegations of criminal misconduct in connection with OML 42." She also said Robinson "agrees with Shell's conclusion that the sale of OML 42 is unrelated to OPL 245."
A source told Reuters in March, that documents related to the OML 42 case had been uncovered after investigators looking into OPL 245 raided a house in Perth, Australia owned by Robinson.
Milan prosecutors allege bribes totalling about $1.1 billion were paid, including to middlemen, to win the OPL 245 deal for Shell and Eni.
Shell has said it expects the case in Italy to last many months.