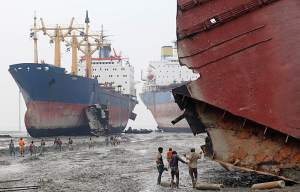 Ship owners who were holding off a potential sale of their older ships for scrap, looking for even higher prices than those witnessed in the past few weeks, will be bitterly disappointed by the course of things in the demolition markets during the past few days. In its latest weekly report, GMS, the world's leading cash-buyer of ships noted that "cracks started to emerge in the Indian sub-continent ship recycling markets this week as hefty declines in local steel plate prices at all locations started troubling end buyers. Additionally, the Bangladeshi Taka displayed an uncharacteristic decline against the U.S. Dollar, which also proved to be a cause for concern for buyers there. As a result, it was unsurprising to see ship prices decline by at least USD 10/LDT across the board (except Turkey) as sub-continent recyclers elected to wait and watch patiently on the sidelines before committing fresh units, with the expectation that a new reality on levels might be inevitable in the coming days / weeks".
According to GMS, "traditionally, the monsoon season has been a quieter period in the sub-continent due to the constant rains affecting cutting activities on vessels and the subsequent seasonal migration of labour back to hometowns. However, there still remains at least a month to import vessels before the adverse weather kicks in towards the end of May / early June. This will make new fixtures arriving early June to (more than likely) face far lower levels. We also have the lingering question of just how the annual budgets in both Pakistan and Bangladesh will fare at the beginning of May / June respectively and whether any new duties / taxes will come into effect for their respective domestic ship-recycling sectors. Some stability on the declining local steel prices will need to be seen post holidays this week, in order for end users to get back to the buying. However, some of the speculative purchases from recent weeks already look somewhat troublesome for the concerned cash buyers (and perhaps the owners as well)".
GMS added that "in the Bangladesh spent another week as the lowest placed Indian sub-continent market as there was simply no competing with some of the provocative numbers witnessed from competing locations. The chief concern has been the devaluated Taka that has historically been rock steady against the U.S. Dollar and this has seen the recently aggressive demand from Chittagong, dry up during the course of last week. However, this has not stopped certain cash buyers from gambling on a pre-budget and pre-monsoon rally in Bangladesh and some extraordinarily high priced deals were concluded (not quite touching 400/LDT) with a Chittagong delivery in mind. A 17,700 LDT TBN aframax tanker was concluded for a massive USD 398/LT LDT basis an 'as is' Singapore delivery, gas free for hot works clean and about 950 Tons of bunkers onboard at the time of delivery. Additionally, the laid up bulker HIGHNY (8,097 LDT) fetched an equally firm USD 310/LT LDT basis an 'as is' Labuan delivery with minimum bunkers on board upon delivery", it said.
Meanwhile, in India, GMS noted that "a decline in local steel prices by about USD 10/LDT rocked a market that had been improving hitherto unchecked for the last few weeks. As such, it left a dampener on proceedings moving towards the third quarter of the year and the traditionally quieter / lower-priced monsoon season. However, India is still the most bullish and (now) the highest placed sub-continent market, with both Pakistan and Bangladesh struggling somewhat with travails of their own this week. Adding to this is the fact that only Bangladesh and India can take tankers (gas free for hot works clean of course) with a total ban on the beachings of wet units still in place in Pakistan, after the fatal accidents that took place there late last / earlier this year. With this in mind, several wet deals were concluded this week with an India redelivery very much in mind. The CATHERINE KNUTSEN (23,057 LDT) fetched a massive USD 362/LT LDT basis an 'as is' Aruba delivery, for a guaranteed green recycling sale to a fully ISO approved yard in India. Additionally, chemical tanker converted to floating museum BOW HUNTER (8,792 LDT) received an equally impressive USD 302/LT LDT basis an 'as is' Korea delivery, under tow, with about 550 tons of solid stainless steel onboard, contributing to the big price on show. Moreover, U.S. owners committed their self-unloading bulk carrier for a massive price region USD 392-393/LT LDT for green recycling and basis a full June cancelling. Finally, the most extraordinary sale of the week was reserved for the 2002 built panamax container TSING MA BRIDGE (24,350 LDT) from Japanese owners, that fetched an unthinkable USD 390/LT LDT basis an 'as is' Hong Kong – South China range delivery with extra payment for bunkers upon delivery", the report concluded.
Copyright Ships & Ports Ltd. Permission to use quotations from this article is granted subject to appropriate credit given to www.shipsandports.com.ng as the source.