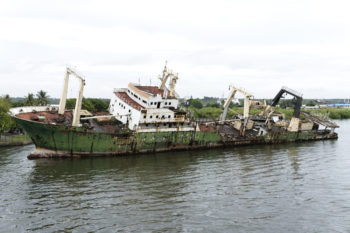 The Federal Government requires an estimated N10 billion to remove the over 30 abandoned vessels on the Lagos shoreline, it has been learnt.
According to sources at the Federal Ministry of Transport (FMoT), it costs more than N300 million to remove a wrecked ship from the water.
The government, a source said, has spent over N300 billion to remove over 200 wrecked ships in the past.
The exercise, when started, the source, an official in the ministry, said would last between 20 and 24 months.
For long, wrecked and abandoned vessels have constituted a menace to riverine communities along the shorelines.
But the hope of clearing the water bodies of wrecked vessels this year may remain a dream. The official of the ministry blames this on the huge financial implication to conduct such exercise, adding that increasing vessel sizes and growing cargo volumes are driving up the cost.
Besides, the Nigeria Maritime Administration and Safety Agency (NIMASA) Board, it was learnt, that the NIMASA Board cannot award contract for such exercise without going through the Ministry of Transport, the Bureau of Public Enterprises and the Federal Executive Council.
In government, a source said, are politicians and civil servants with vested interest in the contract.
The spokesman of Ilado community in Lagos, Seyi Agbato, lamented the eye sore wrecked vessels have not only constituted on his community, but also its threat to life and property.
Agbato said abandoned vessels were partly responsible for the problem of ocean surge, adding that the environmental problem had devastated lives and communities in the state.
A senior Nigeria Customs Service (NCS) official who raised the alarm on abandoned vessels few days ago, said the problem of ship wrecks is a major issue in the state just as it is in other states of the federation.
"Unfortunately, the NPA and NIMASA, who are responsible for maritime safety, are not doing anything about this problem.
"People have written to the Federal Government on a number of occasions on the problem, but they are yet to get replies let alone assistance," the NCS source said.
It would be recalled that the Lagos State government in the past appealed to NIMASA and other relevant authorities to assist the state by removing these vessels for the safety of residents and the environment.